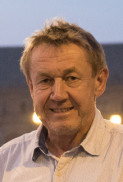 Member
Details
Languages:
English, French, German, Spanish
Sectors:
Energy, Environment & NRM, Training, Civil Engineering, Water & Sanitation, Inst. Devt. & Cap. building, Science & Innovation
Address:
Klagenfurt, Austria
Cellphone:
+43 664 2429 748
About
Civil engineer with more than 30 years of experience in hydropower development and planing, hydraulic structures, water resources, environmental aspects of hydropower operation in more than 30 countries. International team leader or individual expert in projects for KfW, GIZ, EBRD, WB, SDC, ADA and other organizations. Technical expertise in hydrologic analysis and general hydraulic and structural design for hydropower plants, mostly from some kW up to 20 MW but worked also on specific components up to 1200 MW, run-of-river, storage, pumped storage. Green field, rehabilitation, refurbishing, upgrading, technical and financial analysis. Special expertise in environmental flows, dam operation, fish habitats, fish migration, hydropeaking mitigation. Excellent communication and report writing skills. Vast experience in training and capacity building, workshops, seminars, training courses (former university professor).