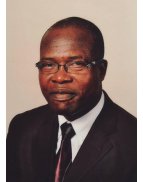 Member
Patrick Awuku Dogbe
Member
Details
Languages:
English, Ewe, French
Sectors:
Micro-finance, Training, SME & Private Sector, Programme & Resource Management, Risk Management (incl. insurance)
About
A Certified Expert in Micro-finance & SME Finance, Project Management Professional and a Chartered Banker with 15 years working experience in Commercial Banking and 12 years in Micro-finance. Experienced in banking and micro-finance operations (including business process engineering and drafting of operations manual), electronic banking, treasury management, credit analysis, savings mobilization, budgeting and business planning for MFIs (using MICROFIN), due diligence audit on micro-finance operations, housing micro-finance product development, micro-finance training and project management. . My professional experience in Africa covers countries like Ghana, DR Congo, Ethiopia, Kenya, Malawi, Tanzania, Madagascar, Botswana, Swaziland, Haiti in the Caribbean and Switzerland in Europe. I speak English and French (working proficiency). I am looking for a CEO position in a Micro-finance Institution. Please find my CV enclosed. You can contact me through padogbe@gmail.com or patdogbe@yahoo.com .