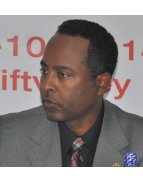 Member
Sisay Gebre-Egziabher
Member
Details
Languages:
Amharic, English, Tigrinya
Sectors:
Rural Development, Civil Society & NGOs, Poverty Reduction, Social Development, Programme & Resource Management, Corporate Social Responsibility
Address:
Addis Ababa, Ethiopia
Cellphone:
+251 911 388 248
About
I have MA Degree from University of Bologna, Italy, in International Studies in Philanthropy and Social Entrepreneurship and I gained my BA Degree in Economics from the Addis Ababa University. I also got a Certificate in Non-Profit Management from the UK's Open University. I studied at the Addis Ababa Commercial Collage in 1986/87 and received a diploma in Purchasing and Supplies Management. I have been working with a government Ministry, international and local NGOs and International Labour Organization (ILO) since 1987 in different capacities. Between 1998 and 2002 I worked with ActionAid Ethiopia as a Program Officer and from 2002 to 2004 I worked with Ethiopian Human Rights Council as Head of M&E and Research. In 2004 I joined an indigenous/local NGO called Hiwot Integrated Development Organization (HIDO) first as a Planning, Monitoring and Evaluation Officer for their community based HIV prevention, care and support program mainly funded by the USAID. After I completed my masters study in Italy (from Sep 2006 to December 2005), I rejoined the same organization in 2006, and worked up to May 2009 first as a program assistant (for less than a year) and later as a Program Manager. From May 2009 to October 2010, I worked with Christian Aid Ethiopia; a British based international NGO, as a Senior Program Officer, mainly responsible to manage the EU funded project. From October 2010 to March 2015 I have been working with the ILO Country Office as a National Project Coordinator and left the office when the project phased out. In June 2017 I joined a semiautonomous government office called Ethiopian Development Research Institue (EDRI) and worked as a Program Manager for the EU funded research Project until February 2019. Currently I am working with Ethiopian Horticulture Producer Exporters Assosication as a Program Manager for Ethio-Dutch Program for Horticulture Development.
I have been conducting various consultancy jobs mainly for NGOs and multilateral organizations. Recently I have conducted an End-term evaluation of a CCRDA/Packard Foundation Population, Health and Environment Program, and delivered the report.
I have also been conducting a number of research papers mainly on the works of NGOs and CSOs in Ethiopia and presented in international and local conferences. Most of the papers were presented on the International Conferences of International Society for Third Sector Research (ISTR) of which I am a member since 2000.