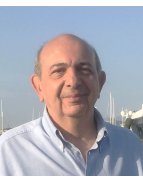 Member
Details
Languages:
English, French, Greek, Russian
Sectors:
Energy, Monitoring & Evaluation, Training, Electrical Engineering, Laboratory & Measurement, Inst. Devt. & Cap. building, Research
Cellphone:
(+30) 6944-757970
About
Drafting and implementation of national strategies on energy efficiency and renewables: Dr. Rampias has extensive experience in the organisation and implementation of projects in the fields of energy efficiency, energy management and renewables. He is also an experienced trainer with over 25 years of participation in the development of courses and lecturing on energy management. He has managed and participated in numerous international projects on energy efficiency and renewables in countries such as Greece, Russia, Romania, Uzbekistan, Georgia, China, India, Indonesia, Cyprus etc.
Industrial energy audits: He has an extensive knowledge on matters concerning energy efficiency and conservation in industry and buildings. He has been involved in the implementation of short and detailed energy audits in various industrial sectors (e.g. cement, pulp and paper, food, chemical, refineries, ceramics etc.) internationally.
Metering and instrumentation: Dr. Rampias has extensive research and hands-on expertise in sensors and metering for monitoring of energy usage. He has participated in various projects related to instrumentation and metering, monitoring and control of energy utilisation. He is well familiar with up to date hardware and software products of energy management systems.
Project Management: He has been Project Manager, Team and Task Leader in various EuropeAid, Phare and Tacis projects. Within his participation in projects since 1993 he has set up and managed successfully teams of local and international experts.