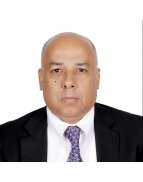 Member
Details
Sectors:
Health, Monitoring & Evaluation, Urban Development, Water & Sanitation, Disaster Reduction
Address:
738 5th street NE Washington DC 20002
About
Award winning global health expert and public health physician with over 30 years of experience working in disaster response, conflict and post-conflict settings, and high security risk areas in Asia and Africa.
Technical adviser to WHO, UNICEF, USAID, and DfID and experienced Chief of Party for international NGOs implementing large-scale, multimillion dollar programs in various countries.
Subject matter expert in designing and leading comprehensive primary health care and urban health programming, infectious disease surveillance systems, and health systems development initiatives, COVID-19
Extensive experience in project planning and conducting operational research and program evaluations of national-level disease control programs including polio eradication, HIV/AIDS, Ebola, malaria, cholera, and avian influenza.
Exceptional stakeholder management skills with strong interpersonal skills and a proven track record of successful coordination with donors; foundations; universities; local, state, and national-level government representatives; NGOs; and the private sector.
Highly innovative and adept with mobile and web-based technologies and geographic information systems.