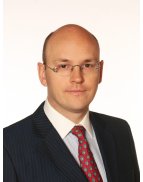 Last update: Jun 12, 2023
Joseph Mik
Last update: Jun 12, 2023
Details
Languages:
English, French, German
Sectors:
Energy, Fundraising, Banking, Law, Information & Communication Technology, Transport
Address:
Ober-Erlenbacher Strasse 6, 61352 Bad Homburg, Germany
About
Financial expert-economist and lawyer with 16 years of experience.
Transferable skills include:
- Wide geographic experience in Africa, Asia and Europe
- Sector focus on 'hard' infrastructure, esp. power, transport and water
- in power, experience in distribution, transmission and generation (inc., solar, wind, biomass, thermal and hydro)
- experience with both PPPs and sovereign-funded projects
- strong understanding of regulation and project contracts, thanks to my legal education
- expertise in financial and economic modelling
- understanding both of the government and private investor perspectives
- native English language skills, fluency in French, proficiency in German
Since 2015, I have served as an financial consultant and lawyer. Clients include governments, particularly in Central Asia, donors such as ADB, EBRD, the EU, KfW and the World Bank, and engineering firms. From 2011 to 2013, I led the expansion of IFC's PPP Transaction Advisory (C3P) business line across Central Asia. From 2014 to 2015, I was seconded to the newly established Corporate Finance Services (CFS) unit to help build an M&A advisory practice. From 2005 to 2008, at Macquarie Bank, I was engaged in M&A and capital markets transactions in the infrastructure sector. I helped close 14 acquisitions, divestitures, recapitalizations, and bond listings on behalf of private equity funds.
Geographic experience:
Africa: Algeria, Ghana, Mozambique, Tunisia
Asia: Afghanistan, China, Georgia, India, Japan, Jordan, Kazakhstan, Kyrgyz Republic, Myanmar (Burma), Oman, Pakistan, Tajikistan, Turkey, Turkmenistan, United Arab Emirates (UAE), Uzbekistan
Europe:Belgium, Bosnia and Herzegovina, Finland, France, Germany, Italy, Kosovo, Luxembourg, Montenegro, the Netherlands, North Macedonia, Romania, Russia, Serbia, Spain, Sweden, Switzerland, United Kingdom (UK)
Americas: Canada, Mexico, United States of America (USA)