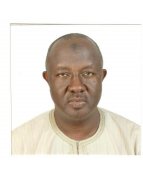 Member
Details
Sectors:
Civil Society & NGOs, Health, Monitoring & Evaluation, Programme & Resource Management
Cellphone:
+234 8037880803
About
Over 20 years experience in Public health and International Development with demonstrated ability in the business development, planning and implementation of Maternal & Newborn health, Child Survival, Family Planning & Reproductive Health, Demographic Surveys, HIV/AIDS and TB programs. Possesses strong team skills, with people and projects as well as excellent Monitoring, Evaluation, Research & Learning skills. Experience in donor funded projects such as USAID, DFID, The Global Funds & BMG Foundation. He has the ability to mobilize communities for developmental projects in areas of cost effective and high impact MNCH/FP, health systems strengthening, population health, malaria, tuberculosis, immunization, FP/RH, public-private partnership and supply chain management. Knowlegearble in statistical analysis using R, Epi-info and SPSS. Usman has six publications in RMNCH, TB/HIV & OVC in peer review journals.
Qualities include professional leadership that imbibes values of organizations and funding agencies; creative problem solver that proactively and effectively maintains positive can-do attitude; constantly focuses on performance improvement and people manager that sets goals and follows through with mentorship and coaching.Usman has extensive field experinece, serving as Country Director in Nigeria and Sierra Leone where expanded MNCH, FP, HIV/AIDS, OVC and TB programs in scale and scope. In addition to his role as team leader opening country programs, he has supported other countries such as Malawi to expand its respurce base under The Global Fund NFM in 2016.