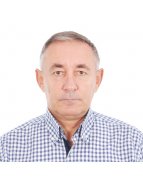 Member
Details
Languages:
English, Italian
Years of Experience:
31 years
Sectors of experience:
Procurement, Civil Engineering, Architecture, Design
About
- Almost 30 years of general professional experience in project management, architectural design, BoQs, tender documents, contract documents and supervision of works of a variety of administrative, commercial, industrial and infrastructure projects.
- More than 20 years of professional experience in architectural design and supervision for Public Building rehabilitation and new constructions.
- In the last 15 years covered senior positions such as Team Leader, Project Manager or Deputy Team Leader in different type of engineering assignments going from design to construction supervision in big infrastructure projects including buildings, roads and water infrastructure.
- Very familiar with World Bank, EU and other funded contracts and therefore, well acquainted with standard IFI's procedures of Contract Management and Site Supervision.
- Well acquainted with FIDIC conditions of contract and more specifically experience in supervising works according to Conditions of Contract for Plant and Design-Build – Yellow Book FIDIC.
- Extended experience in working in multidisciplinary international teams in Management of Contract in various fields of technical expertise.
- Experience in Technical Assistance for various local and international funding agencies for Design Review, preparation of Master plans and procurement of public works, developing schedules, preparing construction estimates, performing value engineering, analysing alternative designs.
- Academic experience as part time lecturer in Technology of Construction and Municipal Engineering, delivered training on FIDIC Contracts.
- Excellent communication, report drafting skills and team working abilities. Proved experience working under pressure and with tight deadlines.