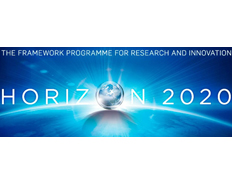 Details
Location:
EU 27, Switzerland
Contracting Authority Type:
Development Institution
Sector:
Industry, Commerce & Services, Media and Communications, Research
Eligible applicants:
Unrestricted / Unspecified
Eligible nationalities:
EU 27, Switzerland
Date posted:
15 Oct, 2015
Description
Call updates:
27 April 2017 16:52
FLASH INFORMATION ON THE CALL RESULTS
H2020-NMBP-2016-2017 (2017single-stage TOPICS)
Published: 14 October 2015
Deadline: 19 January 2017
Available budget: CSA : 8.4 M€ + NMBP-13-2017 (X-KET): 15 M€
The Commission has now completed the evaluation of the proposals submitted to the above-mentioned call.
The results of the evaluation are as follows:
CSA topics
Number of proposals submitted (including proposals transferred from or to other calls): 16
Number of inadmissible proposals: 1
Number of ineligible proposals: 0
Number of above-threshold proposals: 10
Total budget requested for above-threshold proposals: 14,398,535.25 €
We recently informed the applicants about the evaluation results for their proposals.
For questions, please contact the Research Enquiry Service.
24 January 2017 11:01
Deadline of 2017 single-stage topics: 19.01.2017
A total of 78 proposals were submitted in response to this call.
The number of proposals for this topic is shown below:
NMBP-31-2017: 2

20 September 2016 00:30
The submission session is now available for: NMBP-31-2017(CSA).
25 July 2016 14:59
Horizon 2020 Work Programme 2017 update
After the update to the Horizon 2020 Work Programme 2017 of 25 July 2016,
the following updates were made:
Open Access Data new provisions have been added for 2017 calls with an opening date on or after 26/07/2016.




The introduction of the following parts have been modified:




o MODELLING topics under call H2020-NMBP-2016-17




The text for evaluation criteria, scoring, threshold and procedure has been clarified.




Other Action 5. Exploitation Strategy and Innovation Consultants (ESIC) has been cancelled.




Other Action 6. Exploitation Strategy and Innovation Consultants (ESIC) has been changed to other action 5. Exploitation Support Services and the text has been revised.




The following new actions have been added:




o 8. Study on due diligence and risk assessment of KETs projects by investors




o 9. Best practise for identifying and assessing the dual-use issues in enabling technologies research – preliminary study




o 10. Addressing dual-use issues in enabling technologies research




The indicative budget for call H2020-NMBP-2017 was increased to €253.87 million in 2017.
---
TOPIC : Presidency events
Topic identifier:

NMBP-31-2017

Publication date:

14 October 2015

---
Types of action:

CSA Coordination and support action

DeadlineModel:
Planned opening date:

single-stage




20 September 2016

Deadline:

19 January 2017 17:00:00

---

Time Zone : (Brussels time)
Horizon 2020
Pillar: Industrial Leadership
Work Programme Year: H2020-2016-2017
Call : H2020-NMBP-2016-2017
Topic Description
Specific Challenge

:
An integral part of the LEIT-NMP part of Horizon 2020 is to organise events of a major strategic nature. Examples are events organised together with successive EU presidencies; and also EuroNanoForum, Manufuture, NMP Conferences and World Manufacturing Forum. The proposed Support Action(s) should contribute to creating better synergy between initiatives launched by the Commission and by the Member States, to the benefit of the coherence of the overall actions within the field of research and innovation within the Industrial Leadership part. Member States which will hold a forthcoming Presidency of the European Union are Estonia and Bulgaria in 2018 and they may be particularly interested in this topic.
Scope

:
In order to ensure high political and strategic relevance, the active involvement of the competent National Authority(ies) will be evaluated.
Proposals should address topics of major relevance at the time of the events. An appropriate equilibrium should be present in the proposed action(s), with balanced presentations of various research and industrial elements and points of view. The conferences organisers should use modern technologies in all phases of the event life cycle, and should include interactive sessions. Outreach activities may be included, such as a press programme or events dedicated to the wider public or schools.
The Member States holding a Presidency of the European Union in the same year are invited to liaise in order to avoid overlaps, and to ensure that each event has clearly identified objectives, messages and target groups.
The commitment of the national authorities to support the event(s) (from a political point of view, but also with resources) should be a pre-requisite to submit a proposal. The application should be supported by the competent Minister, in a letter added to the application.
The Commission considers that proposals requesting a contribution from the EU between EUR 300 000 and 600 000 would allow this specific challenge to be addressed appropriately. Nonetheless, this does not preclude submission and selection of proposals requesting other amounts.
No more than one action will be funded for each Presidency (possibly covering more than one event).
Expected Impact

:
Review of research, industrial and/or societal developments linked to the Industrial Leadership part areas, as appropriate;

Sharing of information and comparison of points of views; and

Networking various stakeholders and supporting their activities, e.g. natural scientists, social scientists, researchers, industrialists, SMEs investors, environmentalists, museums and schools, non-governmental organisations, …