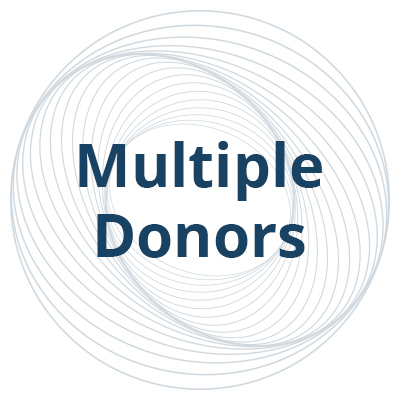 INTRA-ACP GCCA+ Programme in the Southern African Development Community Region
Details
Location:
Angola, Botswana, Dem. Rep. Congo, Eswatini (Swaziland), Lesotho, Madagascar, Malawi, Mauritius, Mozambique, Namibia, Seychelles, Tanzania, Zambia, Zimbabwe
Contracting Authority Type:
Development Institution
Sector:
Energy, Environment & NRM, Food Security, Water & Sanitation, Inst. Devt. & Cap. building, Agriculture
Eligible applicants:
NGOs
Eligible nationalities:
Afghanistan, Albania, Algeria, Angola, Anguilla, Antigua and Barbuda, Armenia, Aruba, Austria, Azerbaijan, Azores, Bahamas, Bangladesh, Barbados, Belarus, Belgium, Belize, Benin, Bermuda, Bhutan, Bolivia, Bosnia and Herzegovina, Botswana, British Virgin Islands, Bulgaria, Burkina Faso, Burundi, Cambodia, Cameroon, Canary Islands, Cape Verde, Caribbean Netherlands, Cayman Islands, Central African Republic, Chad, Chile, Colombia, Comoros, Congo, Cook Islands, Costa Rica, Cote d'Ivoire, Croatia, Cuba, Cyprus, Czech Republic, Dem. Rep. Congo, Denmark, Djibouti, Dominica, Commonwealth of, Dominican Republic, Ecuador, Egypt, El Salvador, Equatorial Guinea, Eritrea, Estonia, Eswatini (Swaziland), Ethiopia, Falkland Islands, Faroe Islands, Fiji, Finland, France, French Polynesia, French Southern Territory, Gabon, Gambia, Georgia, Germany, Ghana, Greece, Greenland, Grenada, Guatemala, Guinea, Guinea-Bissau, Guyana, Haiti, Honduras, Hungary, Iceland, Iran, Iraq, Ireland, Italy, Jamaica, Jordan, Kazakhstan, Kenya, Kiribati, Kosovo, Kyrgyzstan, Laos, Latvia, Lebanon, Lesotho, Liberia, Libya, Liechtenstein, Lithuania, Luxembourg, Madagascar, Malawi, Malaysia, Maldives, Mali, Malta, Marshall Islands, Mauritania, Mauritius, Mayotte, Micronesia, Moldova, Mongolia, Montenegro, Montserrat, Morocco, Mozambique, Myanmar, Namibia, Nauru, Nepal, Netherlands, New Caledonia, Nicaragua, Niger, Nigeria, Niue, North Korea, North Macedonia, Norway, Pakistan, Palau, Palestine / West Bank & Gaza, Panama, Papua New Guinea, Paraguay, Peru, Philippines, Pitcairn, Poland, Portugal, Romania, Rwanda, Saint Helena, Saint Kitts and Nevis, Saint Lucia, Saint Vincent and the Grenadines, Samoa, Sao Tome and Principe, Senegal, Serbia, Seychelles, Sierra Leone, Slovakia, Slovenia, Solomon Islands, Somalia, South Africa, South Sudan, Spain, Sri Lanka, St. Pierre and Miquelon, Sudan, Suriname, Sweden, Syria, Tajikistan, Tanzania, Thailand, Timor-Leste, Togo, Tokelau, Tonga, Trinidad and Tobago, Tunisia, Turkey, Turkmenistan, Turks and Caicos, Tuvalu, Uganda, Ukraine, Uruguay, Uzbekistan, Vanuatu, Venezuela, Vietnam, Wallis and Futuna, Yemen, Zambia, Zimbabwe
Date posted:
08 Dec, 2020
Description
SPECIFIC GRANT NOTICE
REQUEST FOR APPLICATIONS FOR INTRA-ACP GCCA+ PROGRAMME IN THE
SOUTHERN AFRICAN DEVELOPMENT COMMUNITY REGION
REQUEST FOR GRANT APPLICATIONS
Reference Number: SADC/3/5/2/120
Grant Funding Entity: SADC SECRETARIAT
Location: SADC Secretariat, Western Commercial Road (near Lobatse and Siboni Roads), CBD Plot 54385, Private Bag 0095, Gaborone, BOTSWANA.
The Southern African Community (SADC) Secretariat has set aside funds for the operation of the Secretariat during the financial year 2021/22. It intend to use part of the proceeds to cover eligible payments under the contract to engage different firms to receive grants for Intra-ACP GCCA+ Programme in the Southern African Development Community region.
The SADC Secretariat now invites soft copy grant concept notes together with full applications from eligible and reputable firms interested to receive the grants of different sizes as per our Guidelines.
The applicant will be selected under the Open Grant procedures selection and procedures described in this Grant Guidelines and Application Documents.
The Grant Guidelines and Application and associated documentation can be accessed through the link below this notice.
The closing time and date for submission of the applications at the address indicated in the grant application document is Friday, 29th January 2021 at 14:00 hour's local time." Applications received after this time and date, or submitted otherwise than indicated in the Grant Guidelines and Application Document shall not be considered.
All notifications concerning this grant application process, including: or cancellation notices, Requests for clarification and the respective responses will be published on the following website: www.sadc.int.
Interested companies/firmsmay seek clarification or/and additional information concerning this grant application, only in writing (or by email) and by latest 8th January 2021 from the following contact points: Please note that there will be a sessions for all interested on the 16th December 2020, 10.00hrs all are welcome to join using the link provided for in the guidelines as uploaded on SADC website.
Attention:
Mrs. Veronica Zulu-Chingalawa, Acting- Head of Procurement
E-mail: tenders@sadc.int and mmikuwa@sadc.int;
Copy to vchingalawa@sadc.int and smavimbela@sadc.int
Location:
Algeria, American Samoa, Angola, Anguilla, Antigua and Barbuda, Argentina, Aruba, Australia, Bahamas, Barbados, Belize, Benin, Bermuda, Bolivia, Botswana, Brazil, British Virgin Islands, Burkina Faso, Burundi, Cameroon, Cape Verde, Caribbean Netherlands, Cayman Islands, Central African Republic, Chad, Chile, Christmas Island, Cocos (Keeling) Islands, Colombia, Comoros, Congo, Cook Islands, Costa Rica, Cote d'Ivoire, Cuba, Dem. Rep. Congo, Djibouti, Dominica, Commonwealth of, Dominican Republic, Easter Island, Ecuador, Egypt, El Salvador, Equatorial Guinea, Eritrea, Eswatini (Swaziland), Ethiopia, Falkland Islands, Fiji, French Guiana, French Polynesia, French Southern Territory, Gabon, Galapagos, Gambia, Ghana, Grenada, Guadeloupe, Guam, Guatemala, Guinea, Guinea-Bissau, Guyana, Haiti, Heard and McDonald Islands, Honduras, Jamaica, Kenya, Kiribati, Lesotho, Liberia, Libya, Madagascar, Malawi, Mali, Marshall Islands, Martinique, Mauritania, Mauritius, Mayotte, Mexico, Micronesia, Montserrat, Morocco, Mozambique, Namibia, Nauru, New Caledonia, New Zealand, Nicaragua, Niger, Nigeria, Niue, Norfolk Island, Northern Mariana Islands, Palau, Panama, Papua New Guinea, Paraguay, Peru, Pitcairn, Puerto Rico, Reunion, Rwanda, Saint Helena, Saint Kitts and Nevis, Saint Lucia, Saint Martin, Saint Vincent and the Grenadines, Samoa, Sao Tome and Principe, Senegal, Seychelles, Sierra Leone, Solomon Islands, Somalia, South Africa, South Sudan, St. Pierre and Miquelon, Sudan, Suriname, Tanzania, Togo, Tokelau, Tonga, Trinidad and Tobago, Tunisia, Turks and Caicos, Tuvalu, Uganda, Uruguay, US Virgin Islands, Vanuatu, Venezuela, Wallis and Futuna, Western Sahara, Zambia, Zimbabwe
Location:
Angola, Antigua and Barbuda, Bahamas, Barbados, Belize, Benin, Botswana, Burkina Faso, Burundi, Cameroon, Cape Verde, Central African Republic, Chad, Comoros, Congo, Cook Islands, Cote d'Ivoire, Cuba, Dem. Rep. Congo, Djibouti, Dominica, Commonwealth of, Dominican Republic, Equatorial Guinea, Eritrea, Eswatini (Swaziland), Ethiopia, Fiji, Gabon, Gambia, Ghana, Grenada, Guinea, Guinea-Bissau, Guyana, Haiti, Jamaica, Kenya, Kiribati, Lesotho, Liberia, Madagascar, Malawi, Mali, Marshall Islands, Mauritania, Mauritius, Micronesia, Mozambique, Namibia, Nauru, Niger, Nigeria, Niue, Palau, Papua New Guinea, Rwanda, Saint Kitts and Nevis, Saint Lucia, Saint Vincent and the Grenadines, Samoa, Sao Tome and Principe, Senegal, Seychelles, Sierra Leone, Solomon Islands, Somalia, South Africa, Sudan, Suriname, Tanzania, Timor-Leste, Togo, Tonga, Trinidad and Tobago, Tuvalu, Uganda, Vanuatu, Zambia, Zimbabwe
There are no similar grants by sectors