A wave of migrants, most of whom are from conflict-torn Middle East countries, is increasingly nearing the EU's eastern borders, particularly Poland, Lithuania, and Latvia. The majority come from Afghanistan and Iraq and reach the EU eastern border via Belarus but are finding that the authorities of these three countries have opted to introduce pushbacks.
The crisis is said to have started when the Belarusian authorities decided to send migrants from the Middle East to Lithuania, Latvia, and Poland with this trend starting to increasingly intensify in July.
Latvia
Latvia has declared a state of emergency in the border areas from August 11 to November 10 and is allowing border patrol to use physical force to send migrants back. Latvian officials have also declared that they will not accept asylum applications which runs counter to the 1951 Refugee Convention. This decision has aroused criticism from within Latvia itself with Latvian Human Rights Center lawyer, Edgars Oļševskis, commenting in an interview on Latvian Radio that:
"Preventing third-country nationals from entering Latvia across the Belarus border in order to claim asylum is a violation of human rights."
The Latvian government has announced that 362 people have been detained since the beginning of 2021 and this number has recently been on the rise. According to the Latvian border control authorities, between the 15th and 16th of August alone, border officers prevented 46 migrants from entering Latvia from Belarus while another six people were detained for humanitarian reasons. Commenting on the conditions for asylum seekers, the Latvian Interior Minister, Marija Golubeva, said:
"The Latvian border guards offer water and food, clothing and medical assistance to the people pushed out by Belarussian special forces to the EU border. If their life or health is in danger, they are taken to hospital."
Lithuania
Lithuania has also introduced a state of emergency with the authorities declaring that since January 1, 4,100 migrants have illegally entered the country from Belarus, the majority of whom are from Iraq.
Rustamas Liubajevas, the head of Lithuania's border guard service, said that "anyone who tries to enter Lithuania's territory illegally will be denied entry and directed to the nearest operational international border control point."
Akvile Krisciunaite, a researcher from the NGO Diversity Development Group, told the AFP news agency that the pushbacks violate international human rights:
"This restricts the fundamental human right to seek asylum in a safe state. Belarus is not a safe country, and human rights are known to be grossly violated there."
Lithuania is also planning to erect a fence on the Belarusian border to stop the influx of migrants with this move being approved by parliament.
Poland
Poland has not introduced a state of emergency but the authorities have sent about 1,000 troops to the Belarusian-Polish border to support border control patrols after migrants, mostly from Afghanistan and Iraq, arrived in the north eastern region of Poland. When contacted by DevelopmentAid, the Polish Ministry of Internal Affairs, commented that:
"Since the beginning of August, 2,100 migrants have tried to cross the border, 1,342 of whom were pushed back and 758 detained and sent to special centers for refugees supervised by border control officers. Since the beginning of July until 17th August, 380 refugees were sent back to their countries of origin."
The Polish government intends to change the law to tighten the asylum rules in an effort to block applications from people crossing the border, the ministry added.
How it happened
A small village, Usnarz Górny, in Eastern Poland has been witness to the story of about 50 migrants, including women and children, most of whom have come from Afghanistan and Iraq, who have been stuck between the Belarusian and Polish borders for a week now. The Belarusian border patrol will not allow them go back and the Polish border patrol will not permit them to enter in line with the orders they have been given.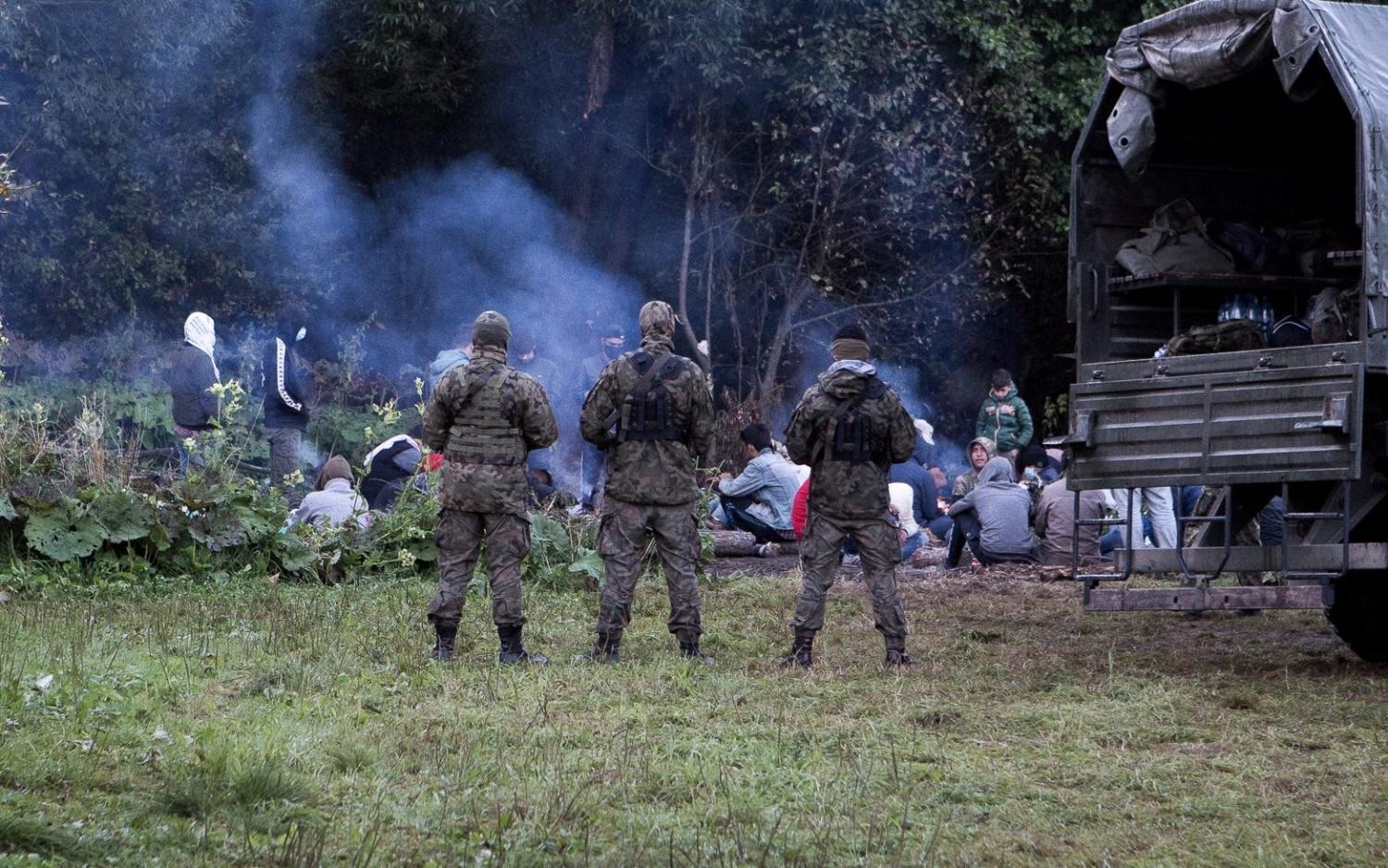 Piotr Czaban, a Polish journalist from private TVN24 TV who visited the village, told DevelopmentAid:
"They are staying in an improvised camp, with no tents or blankets. I saw children and women amongst them and a child was crying all the time. Migrants were trying to warm up by building fires. Polish border patrol officers brought them some food, mostly bought from their own money. Local people provided some help – food, and water – as well. Unfortunately, on Wednesday 18 August border patrol officers said that they could not pass on the hot meals delivered by local people."
Czaban added that Polish border officers had also started to bring other migrants from the area to the provisional camp where there are not even the most basic of living conditions
Z informacji, które otrzymaliśmy wynika, że byli już prawie w Białymstoku, gdy zawróciła ich polska SG. Ponoć zabrała telefony i dokumenty. Coś tu mocno nie gra. SG powinna prowadzić procedury wobec tych osób a nie zawracać ich do granicy BY. @TOKFM_NEWS @JakubMedek @oko_press pic.twitter.com/r17DwXQ6ry

— SIP (@SIP_interwencja) August 18, 2021
For their part, the migrants have said that they initially entered Poland after which border patrol officers gathered them together and pushed them back to the area between the borders. They had now been there for nine days without food, shelter, or clean water, and their mobile phones had been destroyed, they alleged.
Meanwhile, footage has been released on social media showing Polish border officers using foul language to prevent migrants from entering despite those in the camp not being aggressive.
What of legislation
Daniel Witko, a lawyer from the Helsinki Foundation for Human Rights, told DevelopmentAid:
"Migrants have a right to submit an application for asylum and such applications should be accepted and processed. Even after crossing the border illegally, the asylum administrative procedure should be initiated. In practice, they are detained by border patrols as they do not have identity documents but even in that case, they should stay at reception centers until a court decides on their legal status. Asylum should be granted if there is a risk of prosecution or if there is a risk to the civilians due to conflict then subsidiary protection should be granted."
According to international law, Afghans are eligible for asylum while the situation is not as clear when it comes to Iraqis. The UN Refugee Agency's (UNHCR) spokeswoman, Shabia Mantoo, has appealed to all countries not to push Afghans back due to the humanitarian situation in their country.
"In the wake of the rapid deterioration in the security and human rights situation in large parts of the country and the unfolding humanitarian emergency, UNHCR calls on states to halt the forcible return of Afghan nationals who have been previously determined not to be in need of international protection. UNHCR remains concerned about the risk of human rights violations against civilians in this evolving context, including women and girls," she said.
Political aspect
Meanwhile, the governments of the Baltic states have explained that they are protecting their borders against "a cold war" initiated by the Belarusian President, Alexander Lukashenko, who has helped migrants to reach the eastern EU borders. This move allegedly comes as revenge for the fact that the Baltic states have been hosting Belarusian opposition politicians who sought refuge there following the re-election of Lukashenko in August 2020 in a highly disputed ballot.