Sri Lanka, an island nation in the Indian Ocean with a population of 22 million, is currently facing its worst financial crisis since gaining independence from Britain in 1948. Its debt has reached US$50 billion and foreign reserves have dropped a dramatic 70% in the past 30 months. The country has declared that it will default on its foreign debt.
Experts blame the ongoing crisis on financial mismanagement as the country's leadership took out significant loans mainly from Chinese banks to invest in infrastructure projects and cut taxes despite the fact that its revenues continued to decrease mainly in the past two years of the pandemic.
This once highly popular tourism destination is now facing a lamentable situation. The country's authorities are being forced to borrow money to buy fuel and other essential goods while much of the island is facing power shortages, vehicles are queuing at fuel stations and protests are taking place all over Sri Lanka. Some authorities have warned that the situation has led to "an imminent threat of starvation".
Creditors reluctant to help
On April 27, 2022, the World Bank reached an agreement with Sri Lanka to provide US$600 million in emergency assistance to help the country to pay importers for essential goods such as fuel, food, and medicine.
Sri Lanka has also been holding urgent talks with the International Monetary Fund (IMF) but has so far been refused access to additional funds as the IMF has stated that the country's current debt level is "unsustainable" and required "adequate assurances" that its debt sustainability had been restored prior to the provision of a new IMF loan. IMF Sri Lanka Mission Chief, Masahiro Nozaki, said that "any IMF funds should be designed to put the economy back on a sustainable growth path as quickly as possible".
India has already donated some US$1.9 billion in assistance to Sri Lanka and the country is in ongoing talks to receive another US$1.5 billion to help to buy essential goods, particularly fuel. Sri Lanka has also reached out to China to apply for a US$1 billion loan as well as having requested assistance from the Asian Development Bank.
However, many lenders are hesitant since Sri Lanka announced in early April that it would be defaulting on some US$51 billion of foreign debt.
Roots of the crisis
For most of the past two decades, members of the Rajapaksa have controlled the government of Sri Lanka with some critics alluding to them as a "soft dictatorship." Gotabaya Rajapaksa, now aged 72, was the Minister of Defense during the final stages of the long-running civil war in Sri Lanka that only ended in 2009. Meanwhile, his older brother, Mahinda, has served as President and also twice as Prime Minister and several other siblings and family members have held top positions.
The Rajapaksa family was voted out of office during the 2015 elections but the Easter Sunday terrorist attacks in 2019 that left more than 250 people dead saw voters turning back to the one candidate with a strong anti-terrorist record, Gotabaya Rajapaksa.
Gotabaya Rajapaksa ran for office on a platform that included radical tax cuts and reduced import levies among other promises. Commenting on the drastic economic reforms promoted by the presidential candidate, former Finance Minister Mangala Samaraweera warned that if Rajapaksa was elected, "the entire country will not only go bankrupt, but Sri Lanka will become another Venezuela". Yet, not only was he elected President in November 2019 but he also installed his brother Mahinda as Prime Minister.
With tourism impacted by the terrorist attacks, the Rajapaksa family pushed for lower taxes as the best way to stimulate the economy.
However, Sri Lanka was then hit by a huge drop in manufacturing demand as well as overseas remittances as a result of the pandemic with the country losing an estimated US$14 billion in the past two years. The government then responded by increasing the amount of money in circulation thus sparking an inflationary spiral that shows little sign of abating.
On April 5, 2022, the speaker of the Sri Lankan Parliament, Mahinda Yapa Abeywardana, warned that the country was facing an imminent threat of starvation and that the current state of affairs was "just the beginning."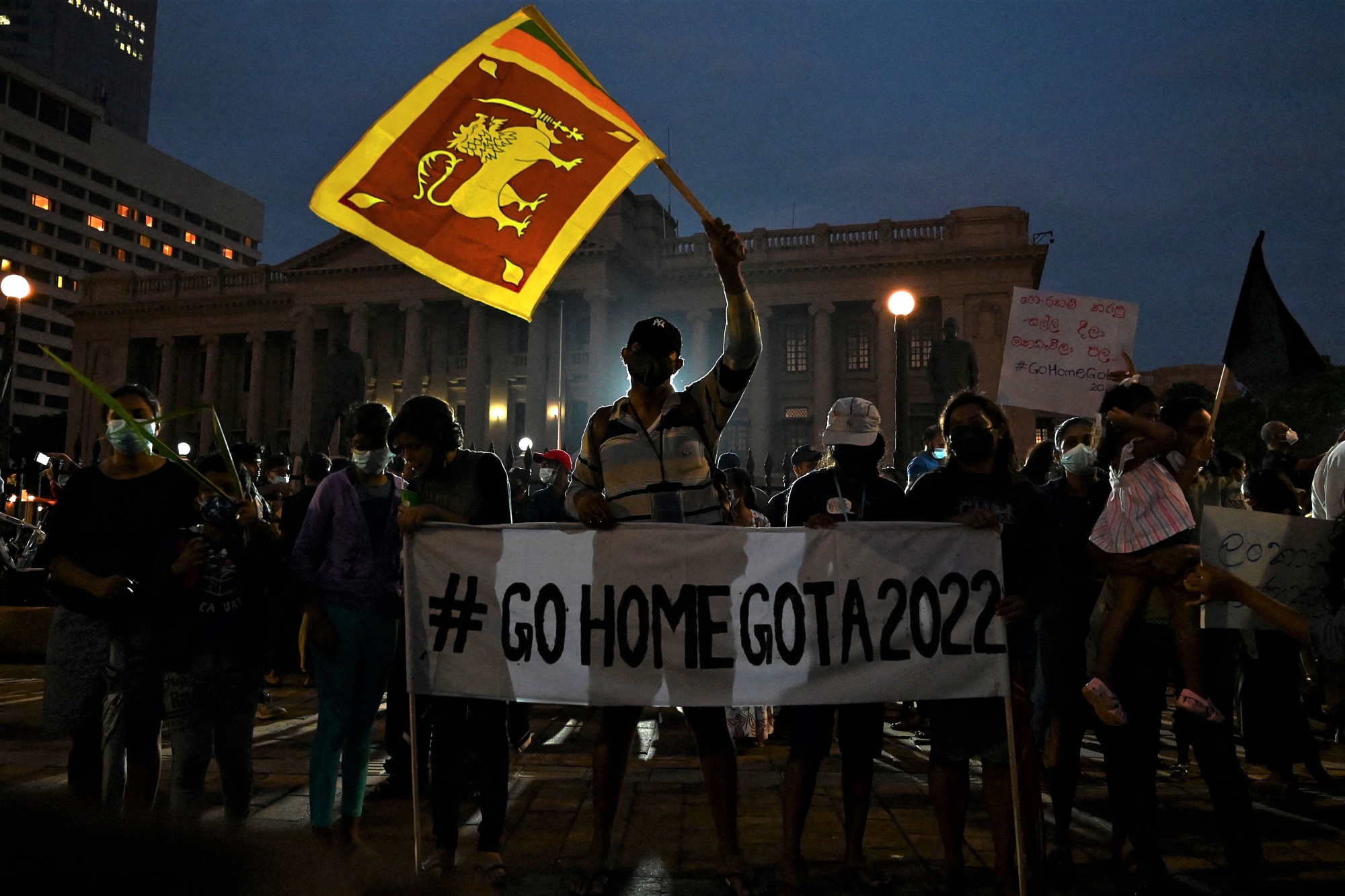 Protesters call for resignation
Protests began sporadically in late 2021 when the cost of cooking oil and fuel, all of which is imported into the country, began to rise sharply as the Sri Lankan rupee dropped in value. The outrage shown by protesters at the skyrocketing prices has grown into calls for the government to resign.
On April 8, 2022, the police opened fire on a large crowd of anti-government protesters in the town of Rambukkana (90 kilometers from the capital, Colombo), injuring at least 10 people and killing one. This marked the first confirmed death since the beginning of the protests.
Following the shooting, thousands of protesters marched to the entrance of the presidential residence in Colombo and have remained outside ever since, refusing to leave until President Gotabaya and the rest of the Rajapaksa family resign.
The beginning of a new era?
Many pinned their hopes on the protests as they morphed into a movement, coalesced around a campsite nicknamed "Gota Go Gama" (Gotabaya Go Village) a short distance from the President's residence.
The name of the campsite comes from the movement's motto, 'Gota Go Home' ('Gotabaya Resign') that is now shared amongst the Sinhalese, Tamil, and English-speaking protesters who see the unrest as a democratic awakening for Sri Lanka. "This is the first time I've been a part of something like this. Even my children are now chanting 'Gota Go Home,'" said Sulfatul Majirth, a worker at a phone repair shop in the capital.
The Gota Go Gama site is under heavy surveillance with overhead drones jamming Facebook-owned social media channels to prevent protesters from uploading material. Earlier, the administrator of the 'GoHomeGota2022' Facebook page was arrested and several journalists who covered the protests have also been arrested and interrogated by the police.
President remains unwavering
The Rajapaksa family and their allies, however, show no sign of backing down. President Rajapaksa responded to the protesters' demands by admitting to some mistakes such as enacting the deeply unpopular ban on importing fertilizer but otherwise refused to step down, blaming the protests on "organized extremists."
One immediate step that Rajapaksa has taken to increase government revenues is to begin selling 'golden visas'. Under this plan, any foreigner who deposits at least US$100,000 will be able to live and work in Sri Lanka for 10 years. Another offer open to expats in Sri Lanka is the right to live and work in the country for 10 years if they spend at least US$75,000 to buy an apartment or home. However, it is unclear just how much these golden visas will contribute to the country's coffers.
Currently, President Rajapaksa and his allies are a minority in parliament after 41 members of his coalition quit. This leaves Rajapaksa at risk of facing a no-confidence vote, but opposition parties have yet to find a united candidate to rally around.