As of 22 May 2022, the World Health Organization has warned that there has been about 250 confirmed and suspected cases of monkeypox across countries where it is unusual for the virus to occur. While the virus causing the disease has already spread across different continents, including at least 11 countries across the European Union, experts believe the outbreak can still be contained.
Discovered in Congo in 1970, the disease is typically found in West and Central Africa. Through the course of nature, the infection is transmitted to humans from animals then subsequently spreads from human to human mainly through close contact with body fluids.
The monkeypox virus belongs to the same family as smallpox although it is milder and people usually recover from the disease in a couple of weeks. The incubation period of the virus typically ranges from 6 to 13 days but in exceptional cases, this may vary from 5 to 21 days. Monkeypox usually begins with flu-like symptoms such as muscle pain, headache, fever, swollen lymph glands, chills, and exhaustion. Later, however, these symptoms are followed by a rash, typically starting on the face and spreading all over the body. Overall, the disease lasts somewhere between two to four weeks.
In the past, the virus has only been exported from Africa to non-endemic countries on a few occasions. According to a professor of international public health at the London School of Hygiene and Tropical Medicine, Jimmy Whitworth, "Historically, there have been very few cases exported. It has only happened eight times in the past before this year."
Yet, since 13 May, a growing number of monkeypox cases has been reported in countries such as the UK, Austria, Belgium, France, Germany, Italy, Portugal, Spain, Sweden, the Netherlands, Denmark, the Czech Republic, the United States, Canada, Australia, and Argentina, the World Health Organization reported. Meanwhile, Switzerland, Norway, and Israel reported their first cases over the weekend.
However, according to the agency, this unusual outbreak can still be contained. The head of the smallpox team at WHO Emergencies Programme, Dr. Rosamund Lewis, commenting on the situation, noted:
"What we know from this virus and these modes of transmission, this outbreak can still be contained; it is the objective of the World Health Organization and the Member States to contain this outbreak and to stop it. The risk to the general public, therefore, appears to be low, because we know that the main modes of transmission have been as described in the past."
Fig.1. Geographical distribution of confirmed and suspected cases of monkeypox in non-endemic countries between 13 to 21 May 2022, as at 13:00.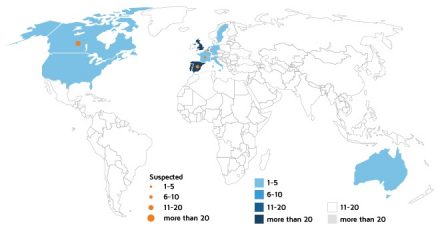 While monkeypox is usually non-fatal, one form of the virus does however kill approximately 10% of infected individuals. The version that has been circulating since May 13 has a 1% fatality rate. Currently, no specific vaccine exists against monkeypox although a smallpox jab promises 85% protection due to the similarity of the two viruses. WHO Regional Director for Europe Dr. Hans Henri P. Kluge said:
"Monkeypox is usually a self-limiting illness, and most of those infected will recover within a few weeks without treatment. However, the disease can be more severe, especially in young children, pregnant women, and individuals who are immunocompromised."