The fourteenth annual BRICS Summit was hosted by the People's Republic of China in Beijing with high-level meetings held in a virtual format between June 23-24, 2022.
The Summit was attended by the leaders of all five member nations – Brazil, Russia, India, China, and South Africa, and its official theme was "Fostering High-Quality BRICS Partnership, Introducing in a New Era of Global Development." This year's Summit had a strong focus on cooperation between BRICS members in a wide variety of areas, including combating the Covid-19 pandemic, counter-terrorism, commerce, healthcare, science, technology, technical and vocational education, traditional medicine, the environment, and the importance of developing micro, small, and medium businesses enterprises (MSMEs).
High-Quality Partnerships
In his keynote address entitled "Fostering High-Quality Partnership and Embarking on a New Journey of BRICS Cooperation," Chinese President Xi Jinping lauded BRICS members for their spirit of win-win cooperation and enhanced solidarity, stating that this year's summit is occurring at a "critical juncture in the shaping of the future course of humanity."
President Xi Jinping also spoke about accelerating changes which have been "unseen in a century" such as the continuing challenges of fighting the Covid-19 pandemic and disruptions to the world economy. President Xi Jinping also praised BRICS member states for "sailing forward tenaciously against raging torrents and storms" and called for more comprehensive cooperation going forward. He also called on member nations to work together to implement the UN 2030 Agenda for Sustainable Development.
Russian President Vladimir Putin's opening remarks emphasized the need for honest and mutually beneficial cooperation in order to rectify macroeconomic policy mistakes while South African President Cyril Ramaphosa's opening remarks focused on the creation of the BRICS Vaccine Research and Development Center to combat the Covid-19 pandemic as well as future global health challenges. Indian Prime Minister Narendra Modi's opening remarks also focused on greater coordination in tackling health challenges while Brazilian President Jair Bolsonaro's opening remarks highlighted the need for greater international trade and investment flows through the promotion of private sector investments.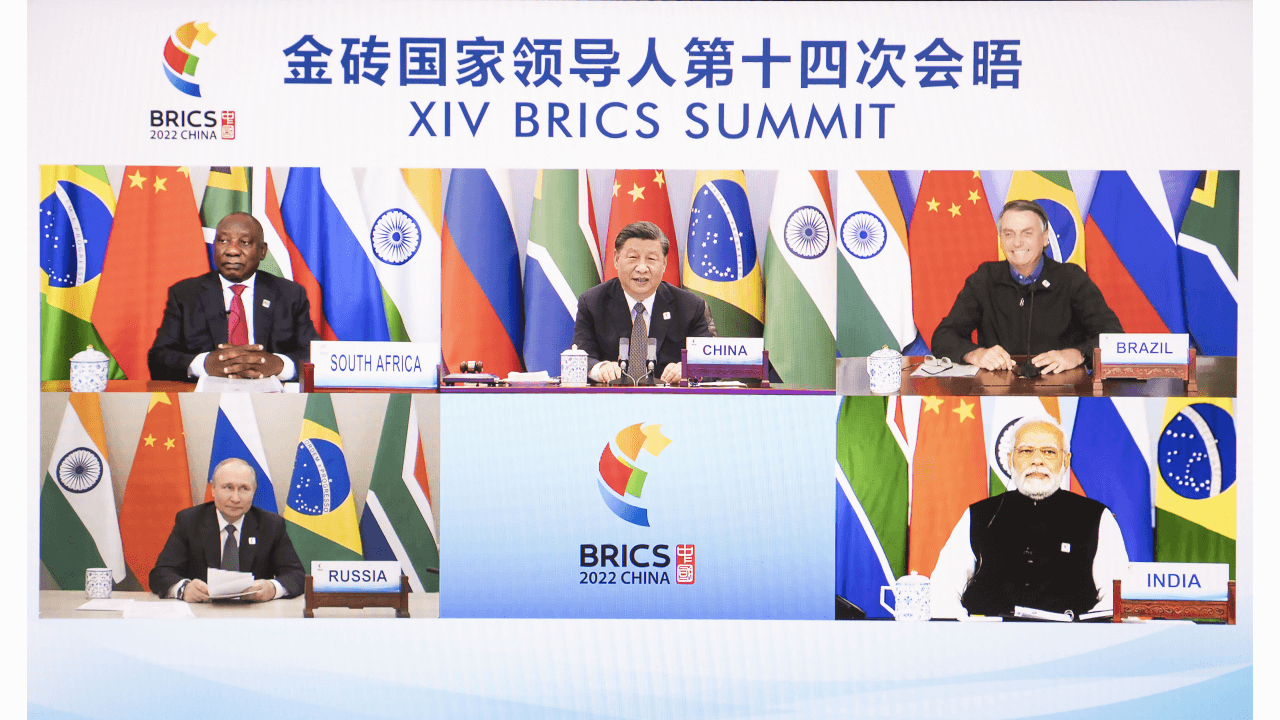 One major theme of the 14th BRICS Summit was the need to uphold solidarity in order to safeguard world peace and tranquility, lambasting attempts by some nations to "pursue unilateral dominance at the expense of others." Another major theme was the operation of the New Development Bank (NDB) and improvements to the Contingent Reserve Arrangement in order to provide greater financial security to BRICS members.
The New Development Bank (often referred to as the BRICS Bank) is a multilateral development bank owned by all five BRICS members plus Bangladesh, Egypt, the UAE, and Uruguay. Founded in 2014 and headquartered in Shanghai, China, the NDB's mission is to promote infrastructure and development projects in member countries, establish partnerships with other multilateral development institutions, and work together towards building balanced project portfolios.
The Beijing Declaration
At the conclusion of this year's BRICS Summit, all five member states signed the Beijing Declaration that emphasized the importance of further solidarity and cooperation, a commitment to combating the Covid-19 pandemic and other global health challenges, the creation of a number of inter-BRICS working groups, a reiteration of member states' commitment to upholding international law, a push to make the UN Security Council more diverse and inclusive, and working towards using innovative solutions to provide sustainable development and the implementation of the UN 2030 Agenda's SDGs.
BRICS was founded in 2009. Initially, the group was known as "BRIC" before the inclusion of South Africa in 2010. The term "BRIC" was coined by Jim O'Neill, an economist working for the Goldman Sachs investment bank in 2001 after he predicted that the four "BRIC" economies (Brazil, Russia, India, and China) would become the dominant economies on the planet by the year 2050 as they were growing much more quickly than G7 economies.
Today, the five constituent members of BRICS are home to the world's fastest-growing market economies with a population of 3.23 billion people, constituting some 40% of the global population. The next annual BRICS Summit will be hosted by South Africa in 2023.