The Amazon Forest has been subject to years-long deforestation. In the first half of 2022, the phenomenon hit a record high, with 3,998 square kilometers being deforested in this region of Brazil, according to data from Inpe, the National Institute for Space Research. This represents a 10% increase over the same period last year and is the highest level since the institute began monitoring the Legal Amazon in 2015.
In an attempt to reverse this negative trend, environmental companies operating in Brazil are betting on technology to finance conservation. Two Brazilian companies, Nemus and Moss, have been selling non-fungible tokens (NFTs) to fight deforestation in the world's largest rainforest. Together, the two companies own 560 hectares of the Amazon.
NFTs are property titles over digital goods that can be traded for monetary value. The tokens cannot be duplicated and represent everything: from drawings of monkeys to clothes to be used by avatars in metaverses.
NFT buyers become holders of rights corresponding to certain land parcels in the Amazon region. Although they will not own the land itself, they will have access to important information about its preservation, from satellite imagery to licensing and other documents.
"NFTs are a complicated way of saying you own a share of the forest. Anyone familiar with real estate is aware of that. It's like you're a sharer of the forest", explained Moss founder and CEO, Luis Adaime. "Anyone can invest to generate carbon credits, to be a partner in the forest, and when you generate and sell these credits you receive society's dividends", he added.
How does the purchase work?
Moss, responsible for the MCO2 token, recently launched three lots of 50 hectares to be marketed between the states of Mato Grosso and Pará. Typically, according to the company, a hectare costs between US$100 to US$1,000. The project's intention is for Brazilians to understand that keeping the forest standing will be more profitable than deforesting it.
"In Brazil, especially in the northern region, there is still the view that the forest is a cost, an obstacle. How do we stop this process? We value it through the generation of carbon credits. Will you buy it and burn it? No way. Nowadays it burns because the hectare is worth 100 dollars," explained the Moss CEO.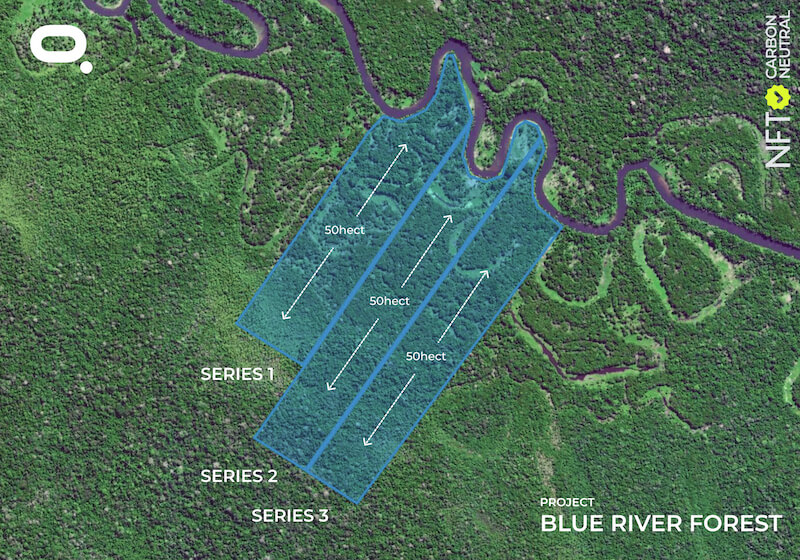 Source: Moss
Moss invests the money gained from NFTs in conservation projects that generate carbon so that the forest makes a profit for those who invest.
Companies like Moss and Nemus operate in the voluntary carbon market where the companies themselves trade with each other without government regulation. The price is adjusted by market demand. In Brazil, in the last two years, the price of carbon credits has grown from an average of US$2 to US$10 – a five-fold increase.
Each MCO2 token is equivalent to a carbon credit – one ton of carbon dioxide that is no longer emitted into the atmosphere. Today, Brazil already sells approximately 20 million credits a year.
"We certify between 1 and 2% of what we can certify here in Brazil. Our country's potential is to multiply up to 100 times what we currently certify. It is practically guaranteeing a growth of the Brazilian economy around 8%," explained Adaime.
The company has already held two pre-sale rounds of NFTs which sold out in a few hours and raised more than BRL 1 million (US$200,000) from the sale. A third stage has already pre-sold another 450 hectares of forest.
"Saving the Amazon is our purpose and through blockchain technology and this innovation we will make it possible for more and more people to be part of this dream," explained Adaime.
How will companies protect their territory?
Environmental companies are committed to acting as guardians of commercialized areas. Moss, for example, is structuring a 30-year protection fund to which it will allocate part of the proceeds from the sale of NFTs to cover patrolling costs, satellite imagery, and any other demand necessary for the security of the areas. In addition, a further amount will be allocated to restore possible forest losses. So far, the company has designated R$ 150 million (US$30 million) for this.
With rigorous auditing processes, the company evaluates the land documentation to ensure that the areas are free and clear of encumbrances and thus can be honestly represented by the tokens.