For experts who wish to work in the field of international development on donor-funded projects, the first and most important step is when a recruiter evaluates their CV. What are the most important elements of a successful CV (resume)? How can an expert ensure that their CV stands out in a competitive field? Can experts with little experience get shortlisted for big projects? And is it essential to tailor one's CV for every project or donor?
All these questions and more will be answered during a webinar held by DevelopmentAid jointly with Anastasia Bahu, currently a Recruitment Advisor at Agriconsulting Europe. With years of experience matching experts to donor-funded jobs, Ms. Bahu will explain exactly how to write, format, and target your CV in order to get shortlisted for projects.
Whether you're just starting out as an expert in the field of international development or are an experienced professional looking to expand your opportunities, our webinar will take you through all the do's and don'ts for how to get noticed by recruiters and have your CV successfully shine a light on your skills and qualifications.
Invitation to a Webinar
DevelopmentAid cordially invites you to attend the webinar "Get Shortlisted for the Donor Funded Projects. Tips from Top Recruiters" which will take place online on September 29, 2022, at 16:00 CEST (Brussels time zone) or 10:00 AM Eastern (Washington, D.C. time zone).

At the conclusion of the webinar, all logged-in participants will receive a certificate of attendance.
Key takeaways
How recruiters evaluate CVs for donor-funded projects
Learn about the six most commonly used CV templates
Should you tailor your CV for each project/donor?
Everything you need to know about Working Certificates
How to get your CV to stand out in a competitive field
Learn how experts with little or no experience can get hired for projects
The most important elements to NOT include in your CV
Learn what the hiring process looks like from a recruiter's perspective
Speaker
Anastasia Bahu, Recruitment Advisor for Agriconsulting Europe
Currently, a recruitment advisor for the Africa Department of AESA – Agriconsulting Europe, in Brussels, Belgium, Anastasia has years of experience in helping experts get shortlisted and win bids for international development projects funded by the United Nations, multilateral development banks, and sovereign donor agencies. Anastasia holds a Bachelor's Degree in International Relations and a Master's degree in Marketing Management from the Academy of Economic Studies in Chisinau, Moldova.
Host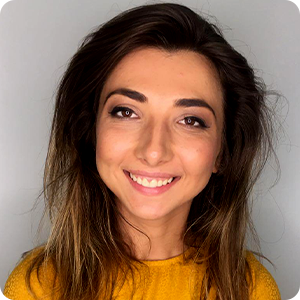 Elena Rata, External Relations & Events at DevelopmentAid