Community development requires a long-term systemic approach to environmental, social and economic challenges. Food security is one of the priorities for any community and helps it to become more resilient against any possible crisis. Agroecology allows communities to have a range of locally grown fresh food, to diversify their economic activities, including the production of highly valued wood, while also providing economic opportunities for women. In a conversation with DevelopmentAid, Lucas Sebastián, the Agroecology Director of a locally driven project in Nicaragua, explained how agroecology helps women collectives to improve food and nutrition security in communities as well as develop a self-sustaining development perspective.
Casa Congo is a grass-root Non-Governmental Organization (NGO) that has been investing in a community development project which addresses a range of issues including sea turtle poaching, water pollution and education as well as food security and women empowerment in the town of El Astillero, Nicaragua. The NGO has been developing its local sustainability hub since 2017 and works on several projects.
Supporting the local women collectives
"Over 60% of women in the community were unemployed and 45% of women are pregnant before the age of 18 so supporting the women was crucial for the community to thrive," explains Lucas Sebastián.
The organization decided to support the local community initiatives that already existed and focused on women collectives. It also supported the creation of "Las Flores de Nicaragua", a women's collective of gardeners.
The organization provided training for women to learn about gardening as well as funds for them to start their own gardens. The classes took place in the community garden to be fully practical. Moreover, the women who finished the training received a payment "like if they were working, to use for their own garden". The NGO also organized cooking and nutritional workshops to improve the diets of their families (Fig.1).
"Our focus is more on the level of care we can provide for women. For example, one of the reasons why many women do not come to these types of workshops and educational programs is because they have to take care of their children. We made it possible for them to come with their children for whom we organized a range of activities including gardening, surfing and ecology classes".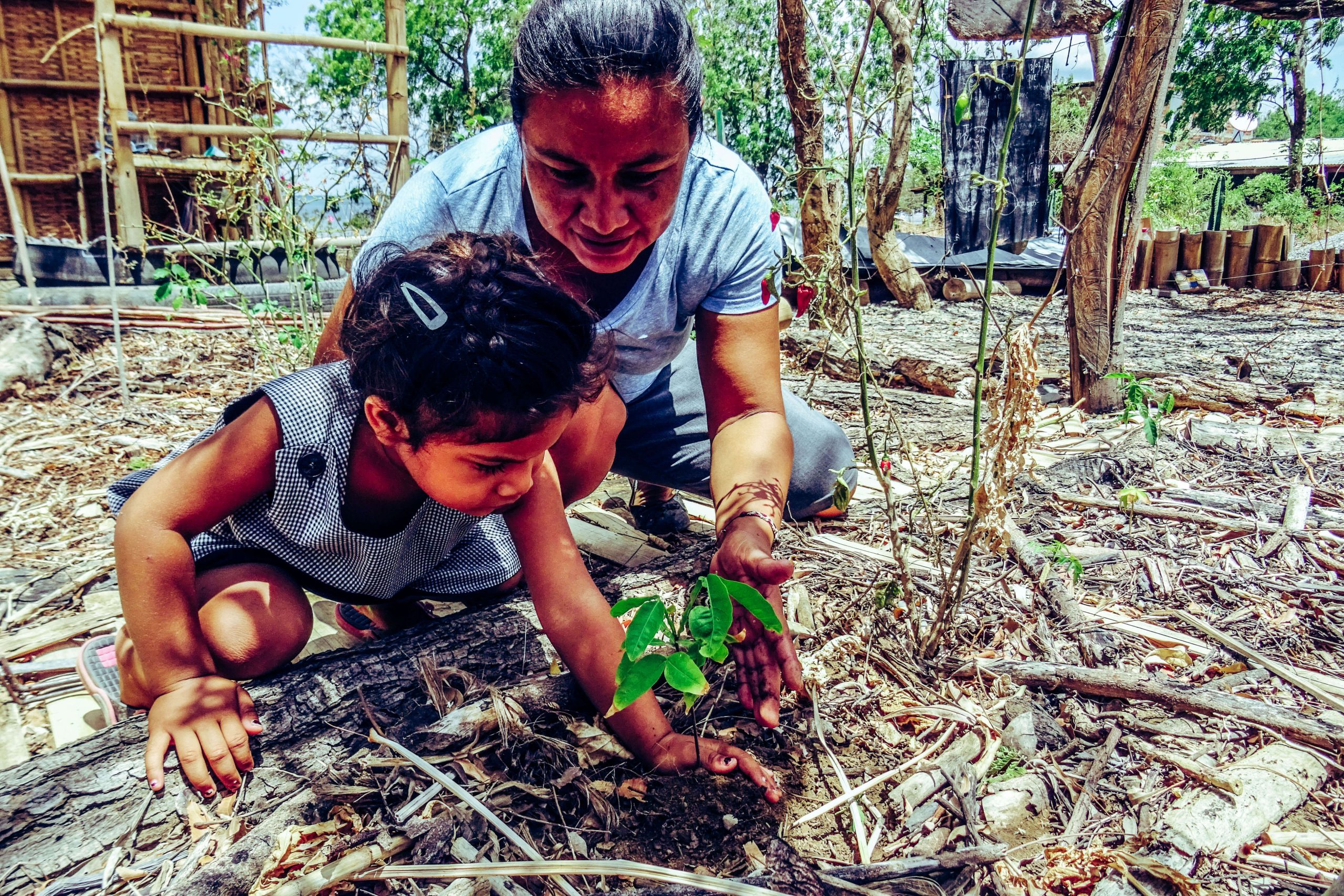 Casa Congo created all the necessary infrastructure for children and involved women from another collective, 'Las Tejedoras' (the weavers), with which it has also been working. In this way, the organization supported both women groups and their children to have extracurricular activities.
Gardening for food security and sovereignty
Although the project started in 2017, the motivation of women to take part in the program was strengthened by the events of 2018 when there was civil unrest in Nicaragua.
"There was a lot of rioting and violence. The trucks full of fruit and vegetables could no longer get to the village. So, there was much less food available for the villagers but in Casa Congo's garden we had watermelons. It was a very important moment when a small group of women realized the power of gardening, free food and the possibility to save money by not buying it," recalls Lucas.
Back in 2018, when food was scarce, the farmers of the area had grown maize but this was not yet ready to harvest. The fact that the farmers in the community did not grow food for the community but rather cash crops for the market, e.g., corn, proved to be a serious problem. A monoculture system and cash crops offer little or no food diversity either to farmers or their communities, and the income that producers get for the cash crops is not enough to ensure a healthy diversified diet either.
See also: "Agroecological pathways to develop healthier diets within food systems"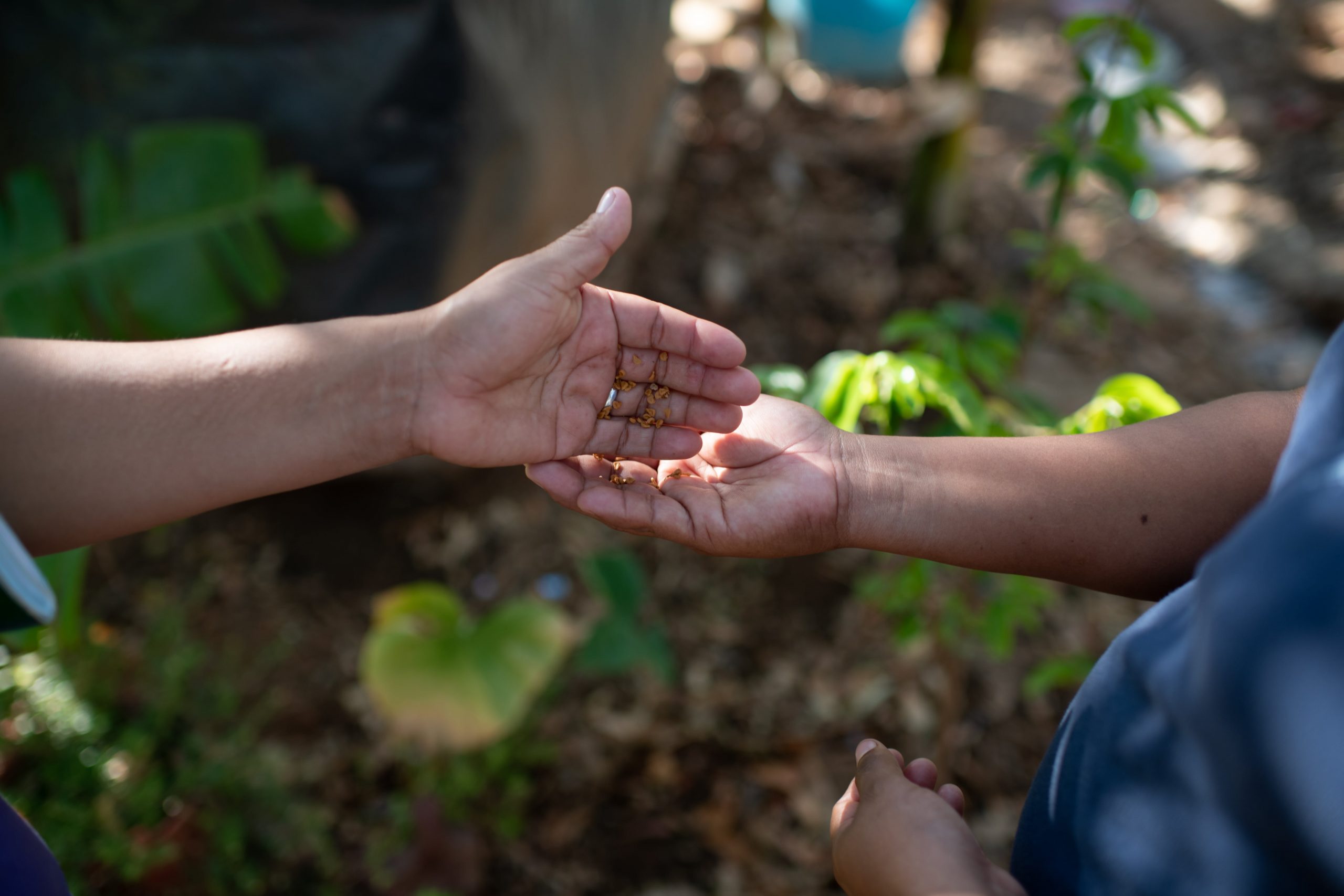 The garden created by the NGO, on the contrary, follows the principles of agroecology and permaculture. So, there are no chemicals used, and there is a diversity of crops both in terms of space and time. Despite challenging environmental conditions due to proximity to the beach, over time the NGO managed to plant several banana and papaya trees. There are also local varieties of squash, beans, and radish. In fact, there is a community seed bank which allows women to access local reproducible seeds of which there are 72 varieties (Fig.2).
See also: "Saving seeds for food and development in the Czech Republic"
In 2021 the NGO has organized 12 workshops and excursions and over 80 people have taken part in the program. Furthermore, since the beginning of the project, 12 community gardens have been created. The most important factor is that some women realize that they now do not need to wait for the food truck or money to buy food from the food truck for their children as they can grow it in their garden. Some have started going to schools to create gardens there for children to learn more about gardening.
"Maybe they do not say food sovereignty, but it is nice to see that this concept emerges from the community and the desire emerges from them. That is a huge success for me", confesses Lucas.
See also: "Lynne Davis: food sovereignty is about communities taking control of their food systems"
Development and financial sustainability
The approach of Casa Congo relies upon unrestricted funding that allows the organization to direct funds in any way that they believe to be appropriate to further their mission in the community.
"We are working slowly on a small scale, but it is a community-driven project in a sense that we get a budget and the women's group decide what they need and what they would like to do with it to make their community a better place," explains Lucas.
Not all funders agree with these terms and instead require a detailed impact analysis. There are, however, foundations like Rockflower, a global venture philanthropy fund and New England Biolabs Foundation that accepted such a vision and were open to the NGO's and the community's proposals.
The ultimate goal of the organization is to help the community to become financially sustainable so that it does not depend on grants and funding. To become more self-sustaining, the organization helps women to produce goods of high market value such as exclusive hand-made carpets. It also promotes such practices as agroforestry within its agroecology training where women can learn about the value of non-fruit trees – a source of precious wood (e.g., teak). This aspect of the work is also supported by the local authorities and the NGO has been collaborating with the Ministry of Forestry.
The project continues. All the women from the community want more fertile land in the farming area to create more farming field schools which are the main focus of the NGO at the moment, as this will allow agroecological practices to grow on a larger scale and magnify the impact.