As many as 1.9 billion people from 60 'fragility contexts' were exposed to environmental, political, economic, human, security, and societal risk in 2021, according to the States of Fragility 2022 report published by the Organisation for Economic Co-operation and Development (OECD). This figure increased by 19 million people compared to 2020 largely due to the COVID-19 pandemic and climate change. Furthermore, with the ongoing Russian war against Ukraine, no improvement is expected.
The OECD defines fragility as "the combination of exposure to risk and insufficient coping capacities of the state, system and/or communities to manage, absorb or mitigate those risks". To put it simply, fragile contexts are regions, countries, or cities facing deep instability, violence or conflicts that trigger high levels of poverty amongst their population. Although fragility has been growing since 2011, the OECD warns that the series of crises triggered by climate change, Russia's war in Ukraine, and the coronavirus pandemic has deepened fragility even further across economies, putting intense pressure on the world's poorest populations.
This means that, at some point last year, each of these fragile contexts was exposed to environmental, political, economic, human, security, and societal risks and failed to cope with them. The 60 fragile contexts were home to 24% of the global population or 1.9 billion people last year. Overall, 73% of the total population living in extreme poverty resided in fragile contexts. This share is forecasted to reach 86% or 2.2 billion by 2030 and 3.1 billion by 2050. Overall, 33 of the 60 fragile contexts are middle-income economies, and only 5 of those 33 are upper-middle-income economies. Fragile economies are also exposed to significant environmental and social issues. For instance, one in every three women residing in fragile contexts have reported sexual or physical violence. At the same time, while the 60 fragile contexts in total accounted for only 4% of CO2 emissions, they were home to 29% of climate disasters. Between 2019 and 2021, 46% of deaths in these fragile contexts were caused by disasters. Fragile economies also struggled significantly to fight the coronavirus pandemic with only one out of every three people having received the coronavirus vaccine.
Overall, fragility across countries varies considerably. Extreme fragility increased significantly in 2021 compared to 2011. For the rest of the world (excluding countries falling into the fragile context), fragility has increased slightly.
Fig.1.Fragility increased worldwide from 2020 to 2021
Source: OECD
According to the OECD, in 2021, amongst 60 fragile economies, 15 fell into the "extremely fragile context" and of these 15, four countries, Somalia, South Sudan, Afghanistan, and Yemen recorded severe fragility across all six dimensions (environmental, political, economic, human, security, and societal risks). All other countries under a fragile context experienced fragility varying from severe to slight.
Fig.2. The OECD's multidimensional fragility framework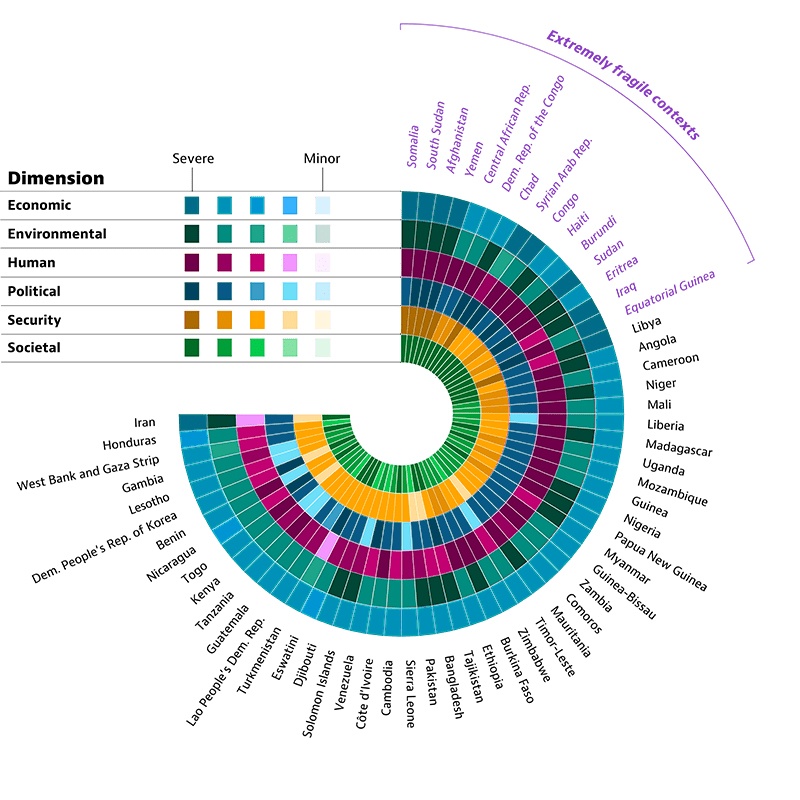 Source: OECD