Nowadays, there are certainly plenty of ways to tackle discrimination at work. Anonymizing CVs could be a way to increase diversity in organizations and reduce bias in terms of enabling blind recruitment. In a way, this is also an approach that would allow candidates themselves to foster inclusiveness by concealing certain personal information.
This takes us back to 1952 when blind hiring was used by symphony orchestras. The musicians were asked to play behind a screen during their audition which increased the number of women who were accepted into the orchestra. According to later research, blind auditions increased a woman's chance of being accepted by an orchestra by 50%.
Nowadays, fair representation has never been higher on the business agenda. According to Glassdoor's 2020 Diversity Hiring Survey, more than 3 out of 4 job seekers and employees (76%) report that a diverse workforce is an important factor when evaluating companies and job offers. This means that, whether or not the company is interested in increasing its diversity, most candidates nevertheless evaluate diversity when they research the company and during the interview process. Furthermore, 50% of current employees want their company to commit more effort towards promoting diversity.
One more reason to strive for more diverse talent lies behind the value this adds to ideas and to greater innovation among teams. According to a study by the Boston Consulting Group, four out of the six types of talent diversity analyzed in the study do positively correlate with innovation: industry background, country of origin, career path, and (surprise!) – gender.
What is a blind CV?
This is a recruitment tool that helps the job seeker and the potential employer to match based on the candidate's qualifications and experience since the ability to perform the job is what matters the most. Qualified applicants who may face prejudice elsewhere can then get the opportunities they deserve.
According to Applied, this is how unconscious bias plays a key role in the traditional CV sift.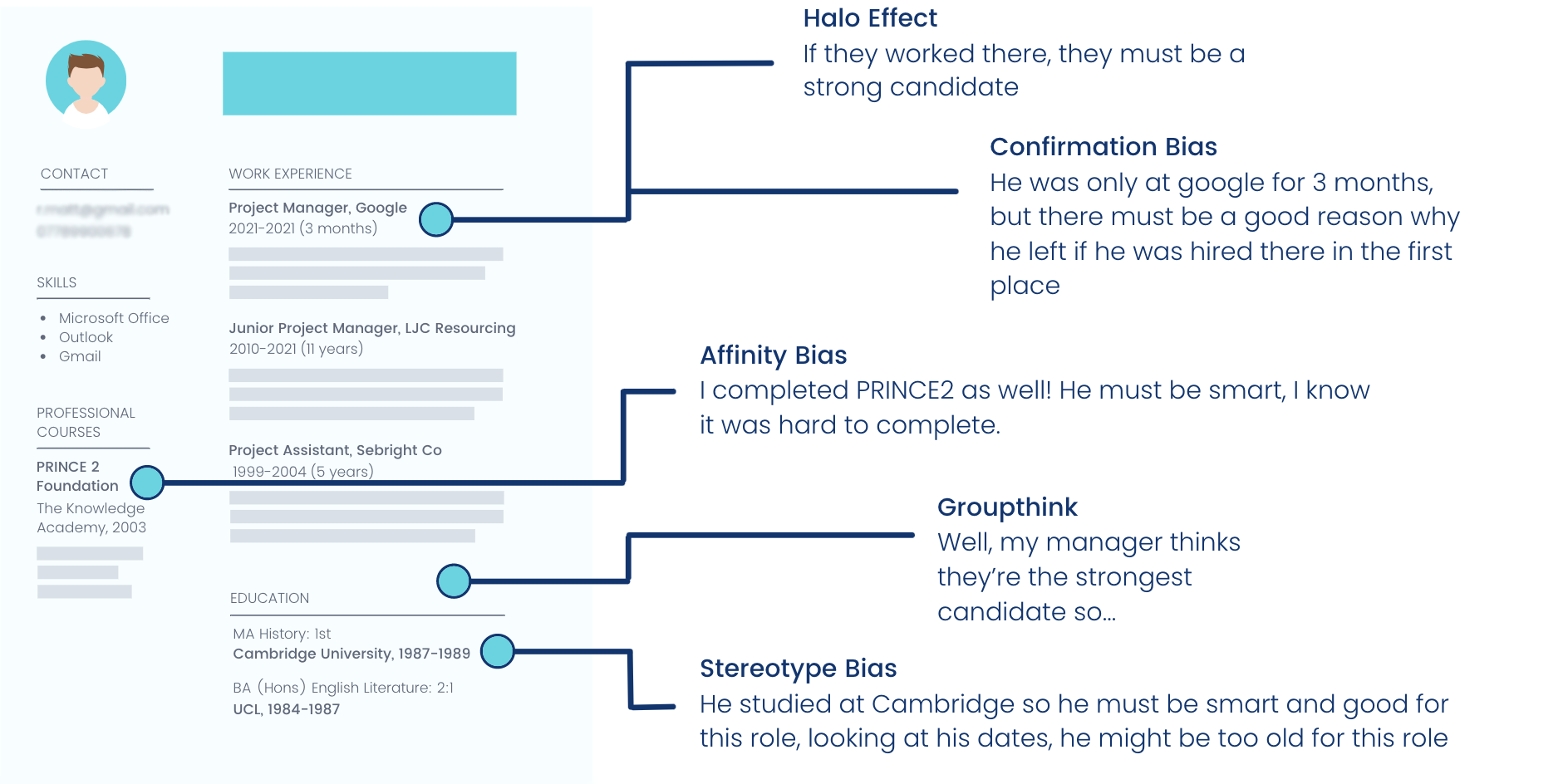 A CV blinded by the company
This can be achieved internally by the HR department asking an employee who is not involved in the hiring process to copy the information from the CVs into standard templates without details such as names and addresses.
An alternative would be to use software such as inda.ai, beapplied or harver.com. Companies can choose what information they wish to retain and what to remove then the software will adapt the documents that applicants submit.
Most recruitment teams use modern blind hiring practices that take a more holistic approach and redact information such as age, gender, photos, contact information, links to social media, address and words that could hint at any information that could hinder a candidate's progress.
A CV blinded by the candidate
Job applicants can also take steps to anonymize their own resumes. A blind CV can help job seekers to put forward their profile without mentioning personal data and identifying factors such as gender, nationality, ethnicity, age, and photo. Removing certain identifiers from a resume, such as pronouns or other gender identifiers, could help to avoid discrimination.
Similarly, dates such as birthday and the date ranges of education and experience can simply be deleted to obscure a candidate's age. According to Schmidt & Hunter's landmark metastudy, years of experience and education are among the least predictive means of assessment. Street addresses can also be deleted while retaining city and state information will allow a recruiter to learn if a candidate is within a reasonable distance. Nonetheless, care should be taken to ensure that contact information is still available so that organization can get in touch.
Sometimes, the company might request details such as the expiration date of ID, passport, working permit, or other relevant documents to confirm the candidate's legal eligibility for the position in question.
The potential drawbacks of blind CVs
Blind recruitment may achieve the opposite of what it seeks to do and actually impede diversity in hiring. For instance, many employees seek out candidates from minority groups during the recruitment process as a positive action. For this purpose, employers indicate in the job description that they welcome applications from candidates of a particular sex/race. However, when recruiters do not have candidates' information, they cannot pursue diversity. The solution could be to roll out the blind hiring gradually – starting with roles for which the organizations have a diverse pool of quality candidates applying but then fail to see this diversity represented at the interview.
Blind CVs only prevent bias at the basic stage of recruitment but this could resurface at later stages such as interviews.
A blind CV could provide an incomplete picture in terms of a potential gap in the work history of a candidate who should keep this in mind and be prepared to add some notes.
Hiring using a blind CV can sometimes mean that employers are not fully aware of the candidate's characteristics and personality traits.
Companies introducing blind CV hiring
In 2017, the Ministry of Health, Social Services, and Equality in Spain, led by Dolors Montserrat, began to consider the possibility of blind recruitment. It has also been successfully implemented in the UK, Germany, France, and the Netherlands in order to avoid discrimination in the recruitment process.
A notable milestone in the implementation of a blind CV by a major company during the selection process was achieved by IKEA in 2018 with a pilot project that was rolled out in Madrid and Seville. The company's objective was to observe the results of the pilot activity before implementing it in more locations.
You can read more about the Pivot Energy Blind Hiring Case Study here as well.
Сonclusion
The problem with bias is that it happens subconsciously and therefore people have no control over it. Even those who claim that they are completely objective when considering a candidate's CV may still choose a male candidate rather than a female, or vice-versa.
Making an effort during the screening phase is all well and good but this will not guarantee that diverse candidates will make it through to the final hiring stage.
One thing we can all learn from the blind hiring process is the power of our own unconscious bias. The more we can improve and learn to set this aside, the higher the chances are that we will be able to create an equitable workplace.
Commitment to gender and geographical diversity is shared by DRS both internally and externally (as per our clients' requests). The DRS recruitment team is proud to make its own impact with a real effort to achieve equal gender representation across notable organizations worldwide.