In the surrounding area of Jericho, in the West Bank, a date production company is going to create 350 new agricultural jobs. This is a breath of fresh air in a region which is hard hit by unemployment and poverty.
It is still nicknamed the "Queen of Dates". The Medjoul date used to be reserved for the royal tables of the palaces of Arabia, as it is three times the size of traditional varieties and reputed to be creamier and more fruity. It has since taken up residence in the Palestinian Territories, in Jericho, 30 km to the east of Jerusalem. It is here that the company Nakheel Palestine grows the "jewel" over hundreds of hectares covered with some 45,000 date palms.
The company was set up in 2010 and in just a few years has become a flagship of the local – and even regional – economy. It is today the leading Palestinian producer of Medjoul dates and exports 60% of its volumes, mainly to Turkey and neighboring Arab countries. Nakheel Palestine employs over 80 permanent staff and some 500 seasonal workers in its fields and at its packing house, including a large number of women. It also indirectly contributes to the livelihoods of several hundred people — independent producers from which it buys part of the production, as well as the distributors of its products.
In a region hard hit by unemployment and poverty, due to a particularly tense geopolitical context, and where 85% of inhabitants make a livelihood from agriculture, this is a life-saving success story. "We have set ourselves the task of contributing to the sustainable growth of the Palestinian economy by investing in the agriculture sector, and by constantly improving our products", the company writes on its website.
A 9.3M € loan
The company has recently invested several million euros to buy an existing date farm, with the aim of increasing its future production volumes and boosting its exports. This acquisition will allow it to make substantial economies of scale and increase its profitability. Nakheel Palestine is also planning to expand its storage and packing site. This will create 350 new direct jobs and EUR 3.8m of additional income for the Palestinian economy over the next 5 years.
These investments have been made possible thanks to an EUR 9.3m loan from Proparco – AFD's private sector financing arm – signed in the spring of 2017. It is the first project to support the Palestinian agriculture sector led by an international finance institution.
"Proparco is a strategic partner which has allowed the company to speed up its growth. Our aim has always been to be a market leader and this wouldn't have happened without Proparco," said Mustafa Hasan, General Manager of Nakheel Palestine.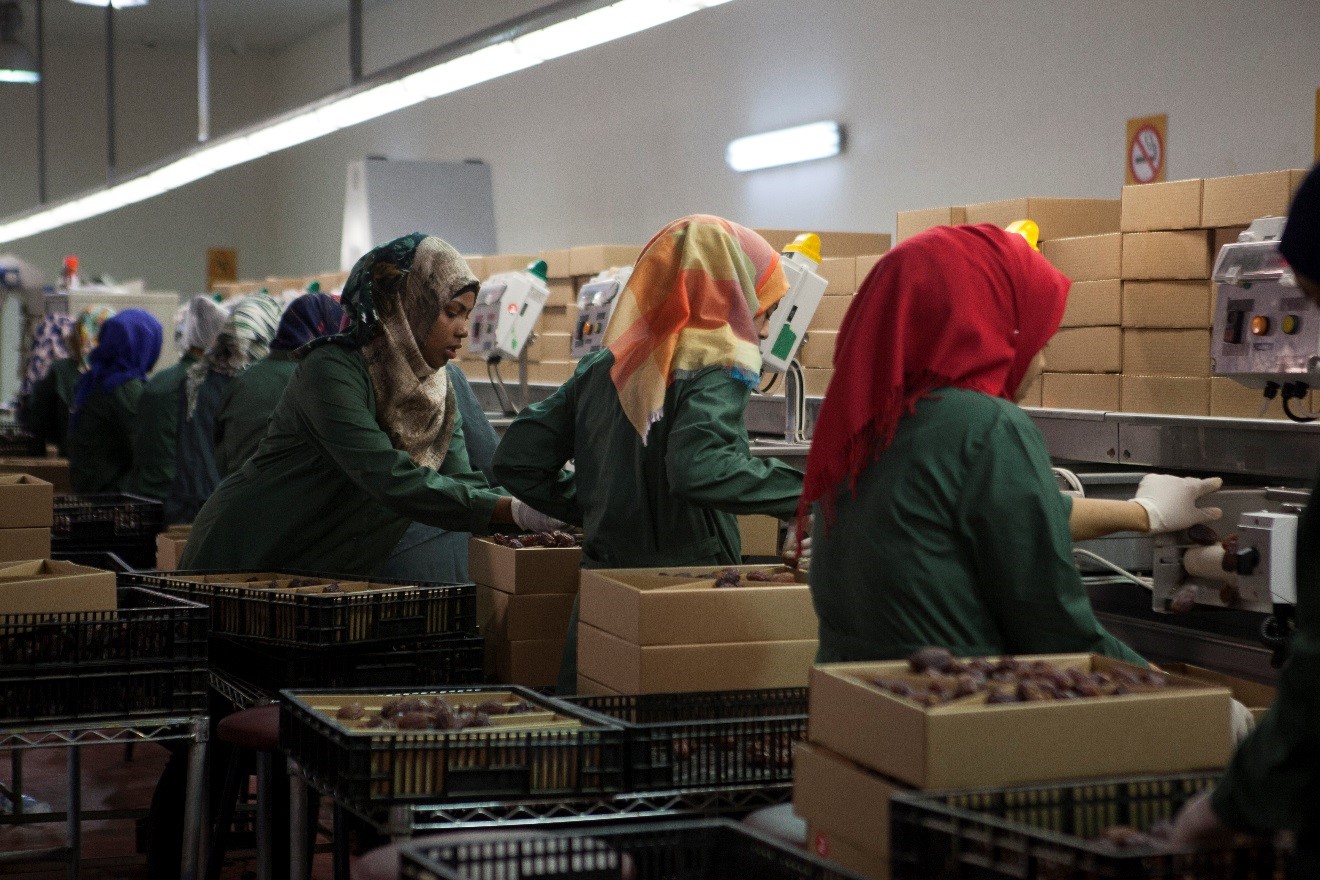 For Jean-Baptiste Jouve, investment officer at Proparco, "Nakheel Palestine and its stakeholders have shown their capacity to develop a profitable company in a complex business environment, which has structured the industry and created sustainable jobs for local communities".
This type of financing is crucial for a company used to thinking long term – it takes three years for a date palm to produce fruit and it only reaches its peak yield after eight years, as well for other companies in the region. Indeed, it sends a positive signal on the bankability of the Palestinian private sector. It could also encourage other financial institutions to follow Proparco's example by providing capital to a region which is sorely lacking it. By doing so, they would be supporting the economic and social development of Palestine. This would be a great achievement for the Queen of Dates.
Nakheel Palestine: A high level of requirement
The company uses recent technologies to fertilize and irrigate its date palm fields and takes care to optimize the use of water, a precious resource in the Jordan Valley. The entire production cycle of dates bearing the Nakheel Palestine label, from the tree to packing, also complies with the highest international standards. The company is certified GlobalG.A.P., BRC Food and ISO 22000, thereby recognizing the high quality of its products.
Original source: AFD
Published on 25 June 2018