Rice is a major food commodity and staple food for many, and adding fish to flooded rice paddies has been a farming tradition practiced in a number of Asian countries for many centuries—even for more than 1000 years in some Chinese areas, the United Nations reports.
---
With the adoption of innovative technologies and a wider choice of fish species and rice varieties, the rice-fish farming system can play a significant role in poverty reduction and improving food and nutrition security, says the UN Food and Agriculture Organization (FAO). A prime example of this successful practice is found in Honghe County of China's Yunnan Province.
Rural and Indigenous Communities
Agriculture, integrated with fish farming, supports rural and indigenous communities and can significantly help countries address the challenges of poverty alleviation as well as improved food and nutrition security.
"The rice-fish farming system we witnessed here, also recognised as a Globally Important Agricultural Heritage System (GIAHS), represents the wisdom of millennia of farming, nowadays strengthened by innovative aspects such as public private partnership." Matthias Halwart, Senior Officer and Outreach Coordinator of FAO's Sustainable Agriculture Programme.
Halwart also pointed out that there is scope for a wider adoption of rice-fish systems in the region and beyond, while noting that the UN specialised agency was partnering with China as part of the Belt and Road Initiative and through its FAO-China South-South Cooperation Programme to support countries on their path towards more sustainable agricultural systems.
Agro-Aquaculture
A group of agro-aquaculture experts from seven Asian countries attending a recent FAO regional workshop on innovative integrated agro-aquaculture in Asia, recently visited the rice-fish farming systems in the terraced rice field in Honghe, where fish is integrated in rice paddy to achieve higher yield and better quality of rice topping with fish as an additional commodity.
"As a result, the value of the combined output has tripled," the Bangkok-based FAO regional office for Asia and the Pacific informs.
Honghe is a mountainous area where more than 85 per cent of inhabitants are the indigenous ethnic group called "Hani" and who are traditional rice growers in the terraced rice paddy. The county has been identified in the country's list of poverty reduction areas.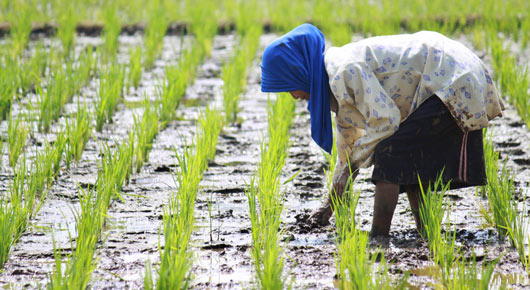 The Freshwater Fisheries Research Center (FFRC) in Wuxi of China, which is an FAO Reference Centre for Fisheries and Aquaculture, has provided technical support and backstopping to Honghe on the rice-fish farming system and set up an experimental station.
The experts from Bangladesh, Indonesia, Lao PDR, Myanmar, Philippines, and Viet Nam said they were convinced that the experience of Honghe could be replicated in their respective countries to help the local farmers in their fight against hunger and to improve their livelihoods and reduce poverty.
The group further recommended that FAO set up a rice-fish farming demonstration village in Honghe to showcase their experiences and good practices.
More than 1000 Ago in China
In some Chinese areas, farmers combine rice farming with aquaculture, quite literally growing fish in their flooded paddy fields. The rice paddies offer protection and organic food for the fish, while the fish soften the soil and provide nutrients and oxygen for the rice crop, the UN specialised body tells in its report: Growing rice and fish – together a Chinese tradition for 1000 years.
The method proved to have several additional advantages. For instance, the fish also eat insects and weeds maintaining a perfect ecological balance that improves biodiversity while limiting problems caused by insects and plant diseases.
Source: IPSNews. Read full article.
26 June, 2017