In the past weeks, the novel coronavirus known as COVID-19 has become declared a global pandemic by the World Health Organization, resulted in over 300,000 cases and altered the daily lives of millions.
While the official number of cases in countries such as Kenya remains low, governments throughout sub-Saharan Africa and other emerging regions are already taking steps to stop the virus from spreading to vulnerable populations. South Africa has now declared a national emergency, and both South Africa and Kenya have also implemented broad travel restrictions. There are also concerns around the economic impacts of the disease on economies in sub-Saharan Africa, many of which are already fragile.
To better understand the knowledge of the virus as it was beginning to spread in sub-Saharan Africa, GeoPoll deployed an SMS survey from March 10th-13th 2020 in South Africa, Kenya, and Nigeria. This survey examined awareness levels, primary information sources, knowledge of how to prevent the virus, and levels of worry. The study had a total sample size of 1,350 (450 per country) and was roughly nationally representative by location across each country. The sample had an even gender split and an age split of 33% ages 15-24, 35% ages 25-34, and 32% ages 35+. Of the initial 1,350 respondents, 1275 (94%) were aware of the recent outbreak and continued to complete the remainder of the survey.
The study found that awareness of the new coronavirus outbreak is high across all countries studied, with 94% of all respondents being aware of the recent outbreak. High awareness is expected given high levels of media coverage of coronavirus even before it had impacted the studied countries. Nigeria and South Africa both had confirmed cases when the survey was run, and most people were aware of this, with 79% in Nigeria and 90% in South Africa stating that there were confirmed cases in their country.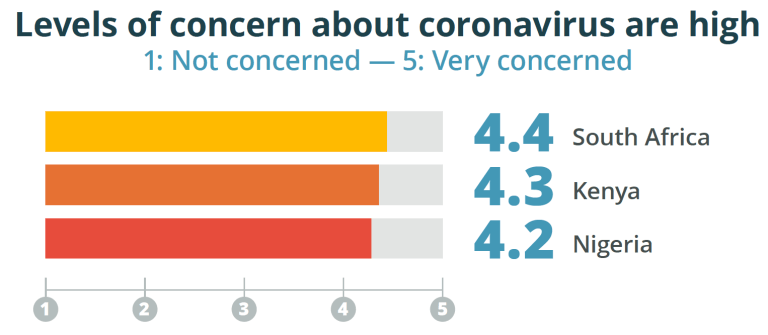 In Kenya, there had been media reports of suspected cases but no confirmed cases until March 13th, after the Geo Poll survey had completed in Kenya. The data reflects this, with 60% stating that Kenya had no confirmed cases. However, there were higher levels of uncertainty, with 27% in Kenya stating they were not sure and 12% believing there had been confirmed cases.
Despite relatively low numbers of cases in each country, concern over coronavirus is high. It was found that 71% in Kenya, 69% in Nigeria, and 72% in South Africa rated their level of concern as 'very high.'
As global concerns over coronavirus increase each day, Geo Poll examined how those in South Africa, Kenya, and Nigeria were reacting to the virus. As of the time of survey run, March 10-13, the greatest concern was over global infections of the virus (34%) over local infections or contracting the disease themselves. In Kenya, there are greater concerns over the financial impact of the virus than in Nigeria and South Africa: 79% in Kenya compared to 57% in each of the other countries believe they will be worse off financially as coronavirus spreads. Kenya also had less confidence in their government handling the virus than South Africa and Nigeria.
Grocery stores in some countries have been struggling to keep their shelves stocked as people buy more food than needed in anticipation of quarantines, and we found the same in the surveyed countries. Overall, 25% reported many items being out of stock, and 40% said some items are out of stock since the spread of coronavirus.
View and download the full infographic.
Original source: Geo Poll
Published on 17 March 2020