25 million SMEs in Europe and the jobs that depend on them are threatened by fallout from the COVID-19 pandemic. The EIB Group is committed to help companies throughout Europe.
The EIB has proposed a plan to mobilise up to €40 billion of financing. This will go towards bridging loans, credit holidays and other measures designed to alleviate liquidity and working capital constraints for SMEs and mid-caps. The EIB Group, including the European Investment Fund, which specialises in support for SMEs, will work through financial intermediaries in the Member States and in partnership with national promotional banks.
The proposed financing package consists of:
Dedicated guarantee schemes to banks based on existing programmes for immediate deployment, mobilising up to €20 billion of financing;
Dedicated liquidity lines to banks to ensure additional working capital support for SMEs and mid-caps of €10 billion;
Dedicated asset-backed securities (ABS) purchasing programmes to allow banks to transfer risk on portfolios of SME loans, mobilising another €10 billion of support.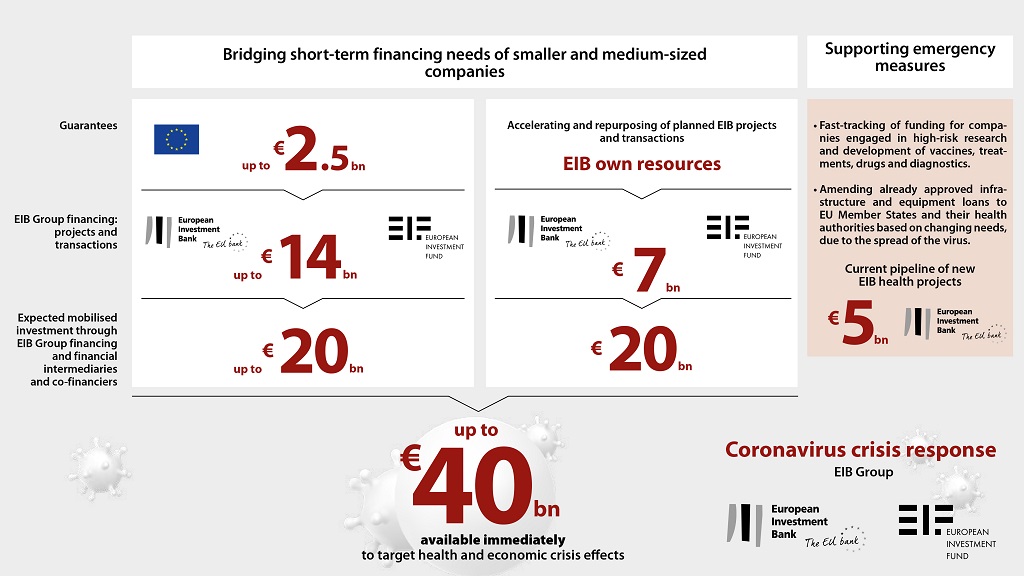 All these actions can be implemented quickly to ease liquidity shortages and will be implemented in partnership with national promotional banks wherever feasible.
And together with EU Member States and fellow EU institutions, the EIB group will ensure this is just the beginning. EIB Group financing will also support the development of cures and vaccines for COVID-19.
Original source: EIB
Published on 28 March 2020