World trade is expected to fall by between 13% and 32% in 2020 as the COVID-19 pandemic disrupts normal economic activity and life around the world.
The wide range of possibilities for the predicted decline is explained by the unprecedented nature of this health crisis and the uncertainty around its precise economic impact. But WTO economists believe the decline will likely exceed the trade slump brought on by the global financial crisis of 2008‑09.
World merchandise trade volume, 2000‑2022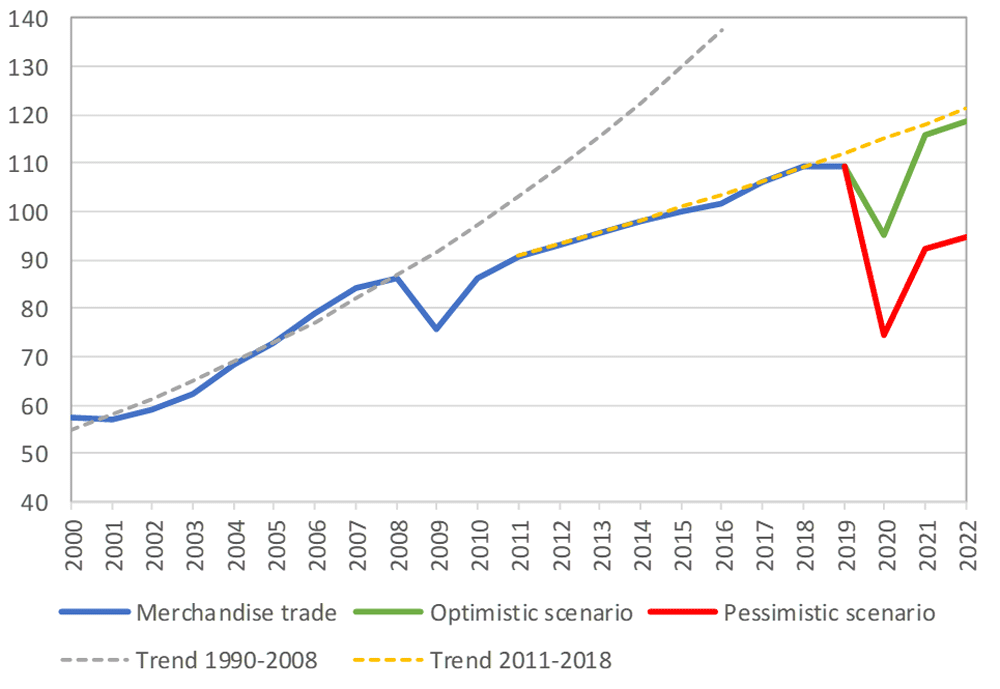 Source: @ WTO Secretariat.
Estimates of the expected recovery in 2021 are equally uncertain, with outcomes depending largely on the duration of the outbreak and the effectiveness of the policy responses.
"This crisis is first and foremost a health crisis which has forced governments to take unprecedented measures to protect people's lives," WTO Director-General Roberto Azevêdo said.
"These numbers are ugly – there is no getting around that. But a rapid, vigorous rebound is possible. Decisions taken now will determine the future shape of the recovery and global growth prospects. We need to lay the foundations for a strong, sustained and socially inclusive recovery. Trade will be an important ingredient here, along with fiscal and monetary policy. Keeping markets open and predictable, as well as fostering a more generally favourable business environment, will be critical to spur the renewed investment we will need. And if countries work together, we will see a much faster recovery than if each country acts alone."
The economic shock of the COVID-19 pandemic inevitably invites comparisons to the global financial crisis of 2008-09. These crises are similar in certain respects but very different in others. As in 2008-09, governments have again intervened with monetary and fiscal policy to counter the downturn and provide temporary income support to businesses and households. But restrictions on movement and social distancing to slow the spread of the disease mean that labour supply, transport and travel are today directly affected in ways they were not during the financial crisis. Whole sectors of national economies have been shut down, including hotels, restaurants, non-essential retail trade, tourism and significant shares of manufacturing. Under these circumstances, forecasting requires strong assumptions about the progress of the disease and a greater reliance on estimated rather than reported data.
Still, all regions will suffer double-digit declines in exports and imports in 2020, except for "Other regions" (which is comprised of Africa, Middle East and Commonwealth of Independent States (CIS) including associate and former member States). This relatively small estimated decline in exports stems from the fact that countries from these regions rely heavily on exports of energy products, demand for which is relatively unaffected by fluctuating prices. If the pandemic is brought under control and trade starts to expand again, most regions could record double-digit rebounds in 2021 of around 21% in the optimistic scenario and 24% in the pessimistic scenario – albeit from a much lower base. The extent of uncertainty is very high, and it is well within the realm of possibilities that for both 2020 and 2021 the outcomes could be above or below these outcomes.
The impact of the COVID-19 outbreak on international trade is not yet visible in most trade data but some timely and leading indicators may already yield clues about the extent of the slowdown and how it compares to earlier crises.
Read and download the Methodology for the WTO trade forecast of April 8 2020.
Original source: WTO
Published on 08 April 2020