In the midst of the COVID-19 pandemic, several countries have announced new relaxed regulations for the use of telehealth, prompting soaring demand for this service. Telehealth providers report spikes of video conference requests per day, requiring them to add doctors and bandwidth to cope with the demand. This article will take a look at the once niche service – telehealth – which is now becoming a mainstream tool for pandemic response.
Telehealth can be used for a wide range of purposes and in various settings. It can enable health care professionals and patients to meet by phone or video chat or it can allow clinicians to consult with each other via digital platforms to establish diagnosis. It has the potential to transform health delivery with the use of technology, transcending time, distance and health-condition related barriers. With the current social distancing measures in place, the use of telemedicine and remote care services can become one of the solutions to the safe management of the COVID-19 pandemic.
USA and Australia are just two of the countries that have considered telehealth as a method by which to manage the current pandemic. As part of the US$50 billion emergency response to COVID-19, the US government announced that restrictions on the use of telehealth for Medicare patients would be temporarily lifted. The policy change included, among others, the expansion of financial resources across specialties and settings and the relaxing of privacy requirements. US telehealth services were previously only available to older people living in remote areas.
The Australian Government has also temporarily expanded subsidized telehealth services for all Australians. "We are making telehealth a key weapon in the fight against the COVID-19 pandemic", states the Government's press-release. With this decision the government intends to protect frontline health workers and take pressure off hospitals while continuously providing care to quarantined citizens. The new arrangements will be in place until 30 September 2020 when they will be reviewed regarding any necessary further changes.
Before the outbreak, telemedicine was a somewhat niche service due to strict government regulations, privacy concerns, a lack of financial resources for remote healthcare and insufficient research. However, hospitals and private healthcare centers are currently witnessing exponential growth in appointments requests for remote healthcare. Teladoc, the U.S.'s largest virtual-care provider, is now reporting over 100,000 appointments weekly. The increase could potentially create congestion and a supply shortage, especially as only 24% of US healthcare organizations had an existing virtual care program in place as of January 2020. The unprecedented demand has highlighted the many infrastructural and administrative challenges of delivering care remotely, such as simply the shortage of bandwidth or doctors who are trained to deliver remote treatment.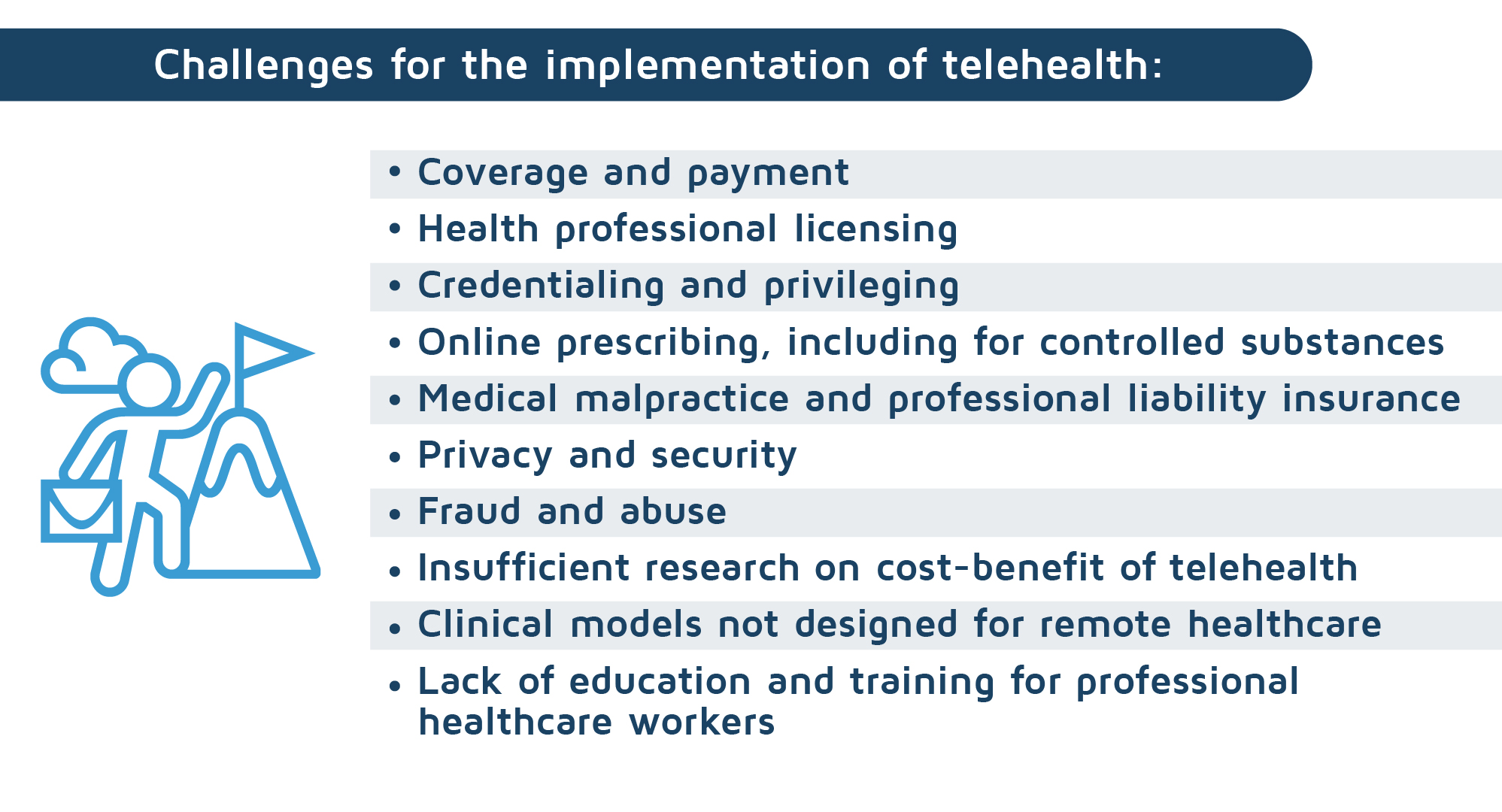 The current pandemic event is not the first time that governments and healthcare providers have turned to telehealth in response to disaster situations. During hurricanes Harvey and Irma, private telemedicine companies provided care to victims who were relocated from their homes and their primary care providers. China has been exploring telehealth following the Severe Acute Respiratory Syndrome (SARS) pandemic in 2003. Telehealth has proved to be especially effective as an emergency response when environmental or biological hazards disrupt the existing structure of health care delivery. Currently, some of the leading countries with considerable telehealth experience are the USA, Israel, the UK, the Nordics and France.
So far, studies have shown telehealth to be especially effective for such categories as people with chronic conditions, parents with young children and caregivers of elderly patients. As far as disease groups are concerned, evidence supports the effectiveness of telehealth for psychotherapy and for the remote monitoring and counseling of chronic conditions such as cardiovascular and respiratory disease. There are, however, a number of financial, regulatory and even ethical limitations that make the delivery of remote care difficult. Low-income countries are facing additional issues where poor infrastructure technology, in addition to higher running costs and low technical expertise, present limitations for telehealth delivery and access.
Low-income countries have had to consider the issue of delivering quality remote healthcare with more urgency, given the contexts of remote areas, scarce resources, lack of expert opinions and conflicts. Telehealth projects exist in Latin America, Asia and Africa but there is little published evidence and only isolated examples of sustained programs, although several sustained humanitarian networks do exist. Some of the established or developing humanitarian initiatives in telehealth are the Swinfen Charitable Trust, Medecins Sans Frontieres, the ECHO (Extension for Community Health Outcomes) Project, Shriners which are all web-platforms providing health-related support to different locations in developing countries. However, low-income countries are currently witnessing a rise in mobile solutions (m-health) for distant healthcare.
Currently, DevelopmentAid has funding related to the telehealth sector, with some of the open tenders in Jordan, Lebanon or Tonga. To review the tenders, follow the link to our website.