Dutch development bank FMO has signed an agreement with UK-registered charity Shell Foundation to harness public as well as private capital for better access to energy and finance in sub-Saharan Africa and India.
Combining the foundation's resources with the bank's mission to alleviate poverty through debt and equity as well as social impact investment, the partners will seek funding opportunities that aim to improve the lives of the world's poorest.
"Together FMO and Shell Foundation will co-create a fund to provide growth capital to social entrepreneurs, which we aim to launch in [the first quarter of] 2018 in collaboration with the UK Department for International Development," said Sam Parker, director of Shell Foundation.
A trustee of the foundation, Alice Chapple, commented that the partnership sets an example for others in its use of "blended capital for high-impact interventions", for which she added billions of dollars are still needed.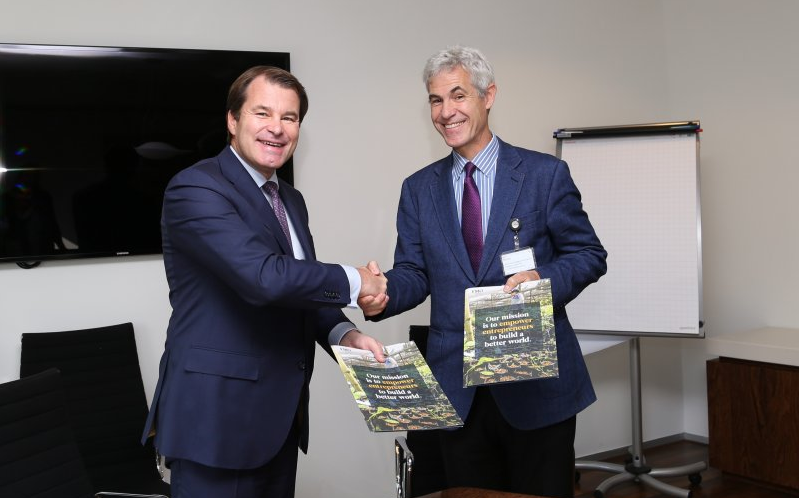 Jurgen Rigterink, CEO of FMO, and Sam Parker, director of Shell Foundation
The agreement is the latest in a decade of collaboration between the parties, which have mobilised more than €70 million to provide poor homes with cooking stoves and inclusive financial services to microbusinesses in underserved communities across Africa and Asia. Shell Foundation typically teams up with financial institutions to create businesses that are closely linked to the UN's sustainable development goals (SDGs). Its main goal is to provide innovators in renewable energy and sustainable transport with funding and technical support at the earliest stages of growth.
Parker added that he hoped the model of partnership agreed on would encourage other development finance institutions to crowd private capital into the market through investors similarly wanting to align their portfolios with the SDGs.
Jurgen Rigterink, CEO of FMO, also commented that the agreement would enable the bank to fulfill its crucial objective of reaching a wider portion of the poorest population with the ultimate of reducing global poverty.
"This is a perfect fit and we look forward to sourcing projects together that have great potential to make a difference," he said.
Original source: DevFin.
Posted on 25 October 2017