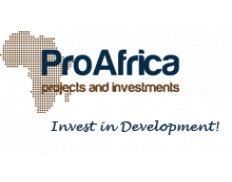 Details
Legal residence:
Ethiopia
Types:
Consulting Organization
Sectors:
Agriculture, Disaster Reduction , Energy, Environment & NRM, Food Processing & Safety, Food Security, Grants & Grant Schemes, Inst. Devt. & Cap. building, Labour Market & Employment, Land & Erosion & Soil, Livestock (incl. animal/bird production & health), Macro-Econ. & Public Finance, Micro-finance, Poverty Reduction, SME & Private Sector, Social Development, Trade, Water & Sanitation
About
ProAfrica Ltd. is a consultancy and social venturing company, active in the sectors agri-food and energy. Our mission is to promote pro-poor economic growth in Africa. Our core activities comprise of:
provision of business consultancy services to companies and organisations

direct investments in the agri-food sector.

ProAfrica advises companies and organizations which are operating in the sectors agri-food and energy in Southern Africa. Our services range from market research, feasibility studies and business plan development to assisting in acquiring finance, technical support and project management.

In addition to consultancy services, ProAfrica itself invests in agribusiness projects. We identify promising business opportunities and develop them into viable business projects. Apart from profitability, creating a positive social impact is an important investment criterion. Based on a well-considered business plan, we provide the necessary technical support and assist in obtaining finance to get the project started.
ProAfrica directs its services to local and international companies, organizations and governments. If necessary to realize a project, we will collaborate with specialized partners.