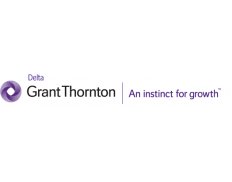 Delta Grant Thornton (Gabon)
Details
Types:
Consulting Organization
Funding agencies:
WB, Other
Sectors:
Audit, Finance & Accounting
Other offices:
Burkina Faso, Austria, Saudi Arabia, Kosovo, Botswana, Tonga, Sint Maarten, Mongolia, Zambia, Egypt, Lebanon, Panama, Kazakhstan, Belize, UAE, Togo, Azerbaijan, Tunisia, Cameroon, Guinea, Italy, Afghanistan, Tanzania, China, Uganda, Mozambique, Singapore, Ireland, Kenya, Malawi, Peru, Mexico, Brazil, Ethiopia, Philippines, New Zealand, Slovakia, Bangladesh, Belarus, Moldova, Albania, Gibraltar, Sweden, Zimbabwe, Algeria, Luxembourg, Belgium, Honduras, Kyrgyzstan, Romania, Croatia, Czech Republic, Georgia, South Africa, Indonesia, Germany, Spain, Pakistan, Yemen, France, Morocco, Uzbekistan, Uruguay, Tajikistan, India, North Macedonia, USA, Namibia, Cambodia, Senegal, Serbia, UK, Turkey, Greece, Russia, Colombia, Nicaragua, Argentina, Bulgaria, Vietnam, Ukraine, Armenia
About
Delta Grant Thornton is a firm of Certified Chartered Accountants (CEMAC n° SEC 61) is positioned as a leading firm in the market by offering services in Independent Assurance, Organisational and Financial Consultancy, Management Consultancy and Outsourcing and Business Advisory Services.
Present for 30 years on the Gabonese market, our entire attention is focused on delivering customized services to our clients taking into account their needs, expectations and strategic intent. The prime objective is to accompany leaders in meeting their daily challenges, ensuring their utmost satisfaction in the realization of the ambitions.
Since our inception in Libreville, our team of 30 dedicated professionals, including 3 Certified Chartered Accountants, accompanies both private entities and public companies throughout the country.