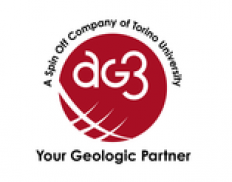 AG3 S.r.l. - Earth Sciences Department of Turin University
Details
Types:
Consulting Organization, Academic Institution
Sectors:
Civil Engineering, Disaster Reduction , Energy, Environment & NRM, Laboratory & Measurement, Land & Erosion & Soil, Mapping & Cadastre, Mining, Pollution & Waste Management (incl. treatment), Research, Risk Management (incl. insurance), Roads & Bridges, Science & Innovation, Water & Sanitation
About
DOTT. GEOLOGO MAURO BUGNANO
Professional Position: Senior Geologist
Date of Birth: 10 February 1961
Nationality: Italian
Membership of Professional Associations:
Registered in the Association of Professional Geologists, National and Piedmont Region, since 1996
Languages
Italian: Mother tongue
English: Very good (written and spoken)
French: Fairly good (written and spoken)
Employment Record
2011-2019: AG3 S.r.l. – Spin off of the Turin University, Founding member, President by 2015.
2012-2014: Tekne S.A., Turin, Italy, Member, Adviser, Chief of the Engineering Geology dept.
2008-2013: Polithema Società di Ingegneria s.r.l., Turin, Italy, Member, Adviser, Chief of the Engineering Geology dept.
2000-2008: Polithema S.A., Turin, Italy, Associate, Chief Geologist
1996-2000: Free lance professional, Turin, Italy, Senior Engineering Geologist
1991–1996: Junior geologist
Education
Degree in Engineering Geology at the Turin Science and Mathematics University, Earth Sciences Department in 1991 (110/110).
Work Experience
Chief geologist in projects and consultings for public and private clients, operating in the field of engineering geology, natural risk assessment, water resources management and land management.
Great experience in geological, environmental, hydrological and hydrogeological fieldwork and analysis, territorial and urban planning geomorphology, quantitative analyses for assessing hazard levels related to alluvial-fan and landslide, with particular aptitude in natural risks for land management purposes. Also specialized in aerial photo interpretation. Planning and site support for drilling campaigns, geoelectric and seismic surveys; geological support during construction of surface (dams, roads, railways) and underground (power plants, water pipe tunnels, road and railway tunnels) civil works. Moreover:
Soil and rock mass characterization and definition of geotechnical and geo-mechanical constitutive models;
Slope stability studies, prevention and settlement of erosive phenomena
Failure tests on natural and artificial slopes, both in rock and incoherent soils
Buried and open pit mines
Hydrogeological and geothermal investigations and modeling
Evaluation of geothermal potential of deep hydrogeological circuits
Wells and mineral water research plans
Environmental impact assessment
Environmental and pollution monitoring
3D stereographic and spatial analysis of DTM
He worked on the deep Cassas and Serre la Voute landslides impinging on the international highway to France, within a multidisciplinary international group of experts. For the XX Winter Olympic Games he worked on many of the most important works.