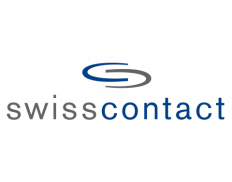 Details
Types:
Consulting Organization
Sectors:
Finance & Accounting, Labour Market & Employment, SME & Private Sector, Training
Other offices:
North Macedonia, Bolivia, Colombia, Honduras, Nicaragua, Peru, Kenya, USA, El Salvador, Indonesia, South Africa, Germany, Switzerland, Albania, Bangladesh, Benin, Burkina Faso, Cambodia, Ecuador, Guatemala, Kosovo, Laos, Mali, Morocco, Mozambique, Myanmar, Nepal, Niger, Uganda, Tunisia, Tanzania
About
Swisscontact is the business-oriented independent foundation for international development cooperation. Represented in 36 countries with over 1,400 employees, Swisscontact promotes since 1959 economic, social and environmental development.

Private Sector Promotion: Employment and income open up pathways out of poverty into a future with real opportunities. Sustainable growth, driven by an innovative private sector, adding value to underdeveloped regions and engaging disadvantaged populations as active market participants is the foundation of Swisscontact's project work, which focuses on four core areas such as skills, enterprise, finance and environment.
Our Portfolio: In the last 50 years Swisscontact has acquired extensive experience in the development and implementation of skills development programmes around the world. They range from training for young people with no basic education to professional training of technical specialists. Swisscontact is committed to sustainably improve the effectiveness and demand orientation of skills development programmes.