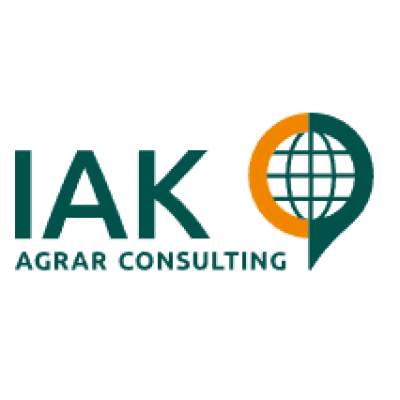 Member
IAK Agrar Consulting GmbH
Member
Details
Types:
Consulting Organization
Funding agencies:
AfDB, EBRD, EC, EIB, KFW, WB, Other, AFD, GIZ, Government
Sectors:
Agriculture, Food Processing & Safety, Food Security, Gender, Grants & Grant Schemes, Humanitarian Aid & Emergency, Land & Erosion & Soil, Monitoring & Evaluation, Poverty Reduction, Programme & Resource Management, Rural Development, SME & Private Sector, Training
About
IAK Agrar Consulting GmbH (IAK) developed from the merging of two independent consulting companies. ACE AGRAR CONSULTING GMBH EINBECK was established in 1968 with a focus on consultancy services in the seed sector in the initial years. Since the early 80ties ACE has widened its scope of financial and technical services for international development projects and has delivered consultancy services in the agricultural and related sectors, in aid coordination, but also in SME development, trade promotion and other sectors related to integrated rural development. INTERAGRARKOOPERATION GMBH (IAK) was established in 1981 in Leipzig. The main area of consultancy work concentrated on the former GDR financed financial and technical interna-tional development projects. In 1990 a national agricultural extension service was developed which provided consultancy services to the former state farms in their reorganisation into private farms and has now expanded to a general advisory service for agricultural farms and enter-prises in all aspects related to agricultural business. In mid 2001 the decision was taken to merge both companies with the aim to use existing know-how, regional experience and human resources more efficient. The main activities of the company focus on planning, implementation and management of pro-jects in the agricultural, natural resource and rural industry sector. In the scope of multilateral and bilateral economic co-operation the company has undertaken projects in Africa , Latin America, Middle, South and Southeast Asia as well as in Middle and East European and CIS countries. IAK accompanies projects in the various stages of the project cycle and provides all necessary technical and administrative support for project preparation, planning, implementation and monitoring and evaluation. Our approaches are highly participatory and ensure that the different needs of the different stakeholders and target groups are taken into account. IAK has extended its fields of activities, in order to meet the requirements, which arise due to the changing economic, social and environmental situation in the world. For every project adapted approaches are worked out considering the broad and world-wide experience of IAK and new strategies in the international technical and financial co-operation.