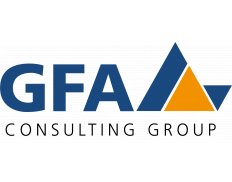 Member
GFA Consulting Group
Member
General
Partners/Competitors
•

2031
General
Partners/Competitors
•
2031
Details
Types:
Consulting Organization
Funding agencies:
ADB, AfDB, DFAT Australia, GA Canada, DANIDA, FCDO, EBRD, EC, EIB, IADB, KFW, MCC, SIDA, USAID, WB, Other, AFD, Enabel, CDB, GIZ, ISDB, LuxDev, NORAD, SDC, UNHCR, CABEI / BCIE, OECD, SADC, AU, BOAD, Global Fund, UNFCCC, ADA, NEFCO, SECO
Sectors:
Agriculture, Decentralization & Local Development, Democratization, Education, Energy, Environment & NRM, Finance & Accounting, Food Security, Gender, Health, Human Resources, Inst. Devt. & Cap. building, Justice Reform, Labour Market & Employment, Macro-Econ. & Public Finance, Micro-finance, Monitoring & Evaluation, Poverty Reduction, Procurement, Public Administration, Regional Integration, Rural Development, SME & Private Sector, Trade, Urban Development, Water & Sanitation
Nr. of employees:
1001-5000
About
GFA Consulting Group GmbH is one of the main European consulting organizations engaged in the development of cooperation between NGOs, ministries, private sectors, public clients and others. Situated in Hamburg in Germany, the organization has been in operation since 1982 and is acknowledged worldwide as a trustworthy partner with many excellent qualities that centre around performance, progress and integrity. Over 130 countries have benefited from its services.
GFA offers professional services in important business sectors that emerge as a result of the current market changes. This change cycle is upheld by GFA units, offices and subsidiaries around the world. Subsequently, new topics are constantly introduced into the current GFA portfolio. Such topics usually involve various disciplines, thus GFA teams from different departments come together and combine their knowledge in order to create the best business solution. They have implemented projects in relevant areas such as agriculture and rural development, climate change, digital innovation, education, energy, financial systems development, governance, health, monitoring and evaluation, natural resources and the environment, private sector development, public finance management, sanitation and waste management, etc.
GFA has set up top-notch products and techniques to improve the productivity of the services it provides such as GFA B.I.S. (IT apps), GFA SysCom (document and knowledge management), TolaData (web platform), C3 Unit for Better Learning (expertise), Climate Competence Center (technical advice).