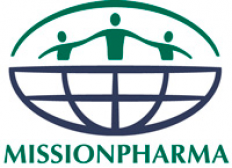 Member
Details
Funding agencies:
Caritas Internationalis, Mercy Corps, Gavi, ADB, AfDB, GA Canada, FCDO, EC, KFW, SIDA, UNDP, USAID, WB, AFD, GIZ, ISDB, NORAD, UNOPS, SDC, UNICEF, FAO, IRW, JICA, JICS, NPO, Global Fund, UNFPA, UNRWA, IOM, Gates Foundation, Oxfam International, SCI, ACF, FHI 360, CRS, AKDN
Sectors:
Health, Industry, Commerce & Services
About
Missionpharma is a leading global supplier of pharmaceuticals, medical consumables, hospital equipment and medical kits for the benefit of the African population. Our aim is to strengthen healthcare in Africa through engagement, cooperation and intelligent solutions in close partnership with local stakeholders. We are proud to be a trusted partner to those driving Africa forward.
Our business approach is based on understanding the environment in which our products are intended to be used. We specialise in adjusting our services to specific local requirements and customer challenges to ensure that our solutions make a sustainable impact. At the same time, we vouch for quality, affordability and transparency throughout the entire supply chain.