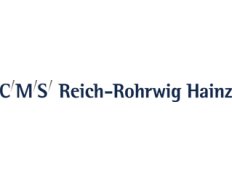 Member
CMS Reich-Rohrwig Hainz GmbH (Austria)
Member
Details
Types:
Consulting Organization
Funding agencies:
EBRD, EC, Other, Government
Sectors:
Inst. Devt. & Cap. building
About
At CMS, we have 2,800 legal and tax advisers in 54 offices. Our size means we have the most extensive footprint in Europe of any firm. This is one of the reasons clients choose CMS. Other reasons include our cross-border sector and practice expertise and our outstanding reputation in key markets. Beyond Europe, CMS is a growing force in Russia, China, North Africa and South America.
39 Partners and Competitors found for this organization.
Full access to Partners and Competitors information is provided to Members only.
Please contact our Membership Department for more information on how to become a member.