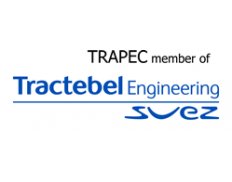 Member
TRAPEC - Tractebel Engineering S.A. (Romania)
Member
General
Partners/Competitors
•

144
General
Partners/Competitors
•
144
Details
Types:
Consulting Organization, Engineering Firm
Funding agencies:
EBRD, EC, EIB, WB, Other, Horizon 2020
Sectors:
Energy, Environment & NRM
Other offices:
Saudi Arabia, Oman, Vietnam, South Korea, Philippines, Monaco, Greece, China, Canada, Ethiopia, Cameroon, Nepal, Senegal, Poland, UAE, Tunisia, Mexico, Cote d'Ivoire, Bolivia, Singapore, Nigeria, South Africa, Chile, Thailand, Turkey, Indonesia, Tanzania, Philippines, Singapore, India, Czech Republic, Italy, Brazil, Germany, France, Belgium
About
Tractebel Engineering S.A. is a Romanian private engineering and consultancy company set up in 1997, that addresses the local and regional market for engineering in energy and infrastructure.
Up to October 1st, 2009, we have pursued our business activities under the trading name of Trapec S.A. We have adopted the name and the branding of our shareholder as a recognition of our maturity, of a sound trust in the capabilities and the position that we have developed.

"At Tractebel Engineering, we are passionate about meeting the challenges of our clients. We want to provide them with high quality engineering and consulting services so that they can achieve economic success and excellence."Daniel Develay, Chief Executive Officer

Tractebel Engineering is a global engineering consultancy company with more than 125 years of expertise in energy, water and infrastructure projects. Tractebel Engineering's services cover the whole lifecycle of these projects, from feasibility studies to decommissioning.Our unique solutions bring added value to clients in public as well as private markets all over the globe. Headquartered in Brussels (Belgium), and with offices in more than thirty countries and projects in over 140, Tractebel Engineering undeniably is a top-level partner for every single one of its clients.Tractebel Engineering employs around 4,400 people.Tractebel Engineering is a business unit of ENGIE Energy Services, the European leader in multi-technical energy related services and one of the key business lines of ENGIE. Our clients fully benefit from the many synergies we share with the wide array of ENGIE Group companies.