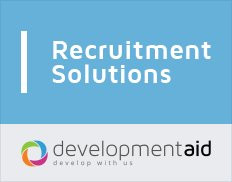 Member
DRS - DevelopmentAid Recruitment Solutions
Member
About
DevelopmentAid Recruitment Solutions offers high-quality recruitment services to donors, NGOs and consultancy firms. We seek to establish long-lasting and strong partnerships with our clients, undertaking full responsibility for the recruitment process.
DRS was formed in July 2016 through a merger of DevelopmentAid and European Management Solutions (EMS). Servicing dozens of highly reputable clients and having placed over 1000 candidates in international development positions worldwide, EMS is a logical addition to DevelopmentAid's service offering. Retaining EMS's staff, expertise, experience and networks allows us to offer a world-class service to our partners.
DRS manages a live database of more than 50,000 specialists. This database comes in addition to the Default and Advance databases which are open to clients of DevelopmentAid. Our unparalleled access to active and passive candidates allows us to efficiently mobilize highly relevant expertise in support of donors, NGOs and consultancy firms.