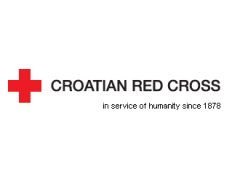 Red Cross Croatia / Hrvatski Crveni Kriz
Details
Funding agencies:
EC, Other
Sectors:
Civil Society & NGOs, Humanitarian Aid & Emergency, Migration, Social Development, Youth
Other offices:
South Africa, Sri Lanka, Papua New Guinea, Iceland, Montenegro, Italy, Norway, Kenya, Luxembourg, Australia, Switzerland, Canada, North Macedonia, Russia, Serbia, Russia, Belgium, UK, Denmark, Germany, Albania, Netherlands, Sweden, Austria, France, Spain, Switzerland, Finland, USA
About
The Croatian Red Cross is a national society of the Red Cross which operates impartially and without discrimination on the territory of the Republic of Croatia with the aim of promoting and achieving humanitarian goals and programs of general use.
It acts as a non-profit legal person in dealing with humanitarian issues, organizing health and social programs, preparing the population for acting in mass disasters and disasters, as well as acting to reduce and eliminate the consequences of mass disasters and catastrophes.
There are 131 county, city and municipal societies of the Red Cross in the Croatian Red Cross system.