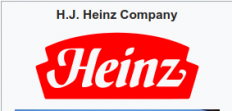 H.J. Heinz Company a division of he Kraft Heinz Company
Details
Types:
Consulting Organization, Supplier
Sectors:
Food Processing & Safety
About
The H. J. Heinz Company, or Heinz, is an American food processing company with world headquarters in Pittsburgh, Pennsylvania. Originally, the company was founded by Henry John Heinz in 1869. The H. J. Heinz Company manufactures thousands of food products in plants on six continents, and markets these products in more than 200 countries and territories. The company claims to have 150 number-one or number-two brands worldwide.Heinz ranked first in ketchup in the US with a market share in excess of 50%; the Ore-Ida label held 46% of the frozen potato sector in 2003.
In March 2015, it was announced that Kraft Foods Inc. (founded in 1903) and H.J. Heinz Company will be merged into a single company The Kraft Heinz Company. Heinz shareholders will gain control over 51% of the combined company, and Kraft Foods shareholders will control 49% of the single structure. This decision was unanimously approved by the boards of directors of the two merged companies .