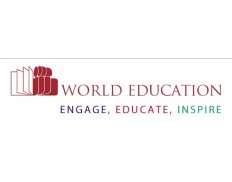 Details
Funding agencies:
ADB, EC, MCC, USAID, WB, Other
Sectors:
Agriculture, Civil Society & NGOs, Decentralization & Local Development, Education, Gender, Health, Human Rights, Inst. Devt. & Cap. building, Migration, Monitoring & Evaluation, SME & Private Sector, Social Development, Training
Nr. of employees:
501-1000
About
World Education provides training and technical assistance in nonformal education across a wide array of sectors. Registered as a private voluntary organization, World Education has worked in over 50 countries in Asia, Africa, and Latin America, as well as in the United States.
World Education contributes to individual growth, strengthens the capacity of local partner institutions, catalyzes community and national development. World Education's approach is characterized by a commitment to meaningful and equal partnership that is flexible and evolves over time, and is based on mutual interest and trust. In its role as catalyst, World Education strives to develop assets such as good health, literacy, numeracy, business and civic participation skills, and access to credit. World Education promotes local autonomy by partnering with stakeholders to plan and implement their programs for social and economic change, appropriate to the local context and the needs of grassroots constituents.