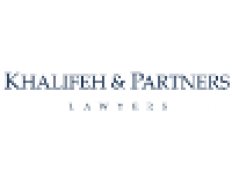 Details
Types:
Consulting Organization
About
Khalifeh & Partners is a leading Jordanian law firm with a solid track record for delivering the required commercial results for our clients in today's fast paced business environment. We are constantly involved in high-level legal work and complex commercial transactions. Our ability to provide clients with legal, commercial and strategic solutions is built on vast experience and knowledge of the Jordanian market, and a keen understanding of the commercial context in which businesses operates.
Our client base includes many of Jordan's leading companies and financial institutions. We also constantly advise international companies, consortia and financial institutions in connection with their dealings, bids, financings and business transactions in Jordan. Our commitment to providing innovative and commercial legal advice to our clients is backed by the resources and expertise of a team of highly qualified and experienced lawyers.
The firm's excellence is widely recognized in Jordan and the Middle East. Chambers & Partners ranks us as a Tier 1 law firm in Jordan citing that we are a "key player in projects", and clients say we are a "top firm" and praise the "high standards and efficiency". IFLR 1000 ranks us as a Tier 1 law firm in Jordan citing that we "are one of the top in Jordan, especially in regards to development issues, investments, multinational firms and international law". Legal 500 also ranks us as a Tier 1 law firm in Jordan citing that we "are a leading practice in the energy and infrastructure sectors, with an excellent track record" and that we "offer excellent experience and expertise in the [projects and privatizations] sector".