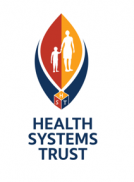 Member
Health Systems Trust
Member
Details
Legal residence:
South Africa
Funding agencies:
ADB, AfDB, DFAT, GA Canada, DANIDA, FCDO, EBRD, EC, EIB, IADB, KFW, MCC, NDF, NZAID, SIDA, UNDP, USAID, WB, Other, AFD, BADEA, Enabel, CDB, GIZ, Government, ISDB, LuxDev, MFA Finland, NADB, NORAD, OSCE, OAS, UNOPS, USTDA, US DoS, UN, CoE, SDC, IFAD, UNICEF, WHO, UNIDO, UNEP, FAO, ILO, ETF, UNHCR, UNESCO, CIP, FP7, ACTED, EBA, EIOPA, ESMA, Horizon 2020, NHA, CABEI / BCIE, CEDEFOP, ComSec, DBSA, AICS / DGDC, FRONTEX, Alliance, IFES, IRW, JICA, JICS, JSIF, OECD, PIFS, SADC, UEMOA, NPO, AECID, APEC, AU, BOAD, EAC Secretariat, Global Fund, NUFFIC, SPC, UN Women, UNFPA, UNAIDS, CZDA, ECB, BCEAO, CTBTO, EITI, GGGI, IAEA, ICC, ITC, ITU, UNRWA, WFP, WIPO, WMO, CEI, IOM, Gates Foundation, AIIB, UNFCCC, UNODC, UNV, NDB, UNU, IRENA, EDB, NIB, CEB, ADA, CDC, UNCDF
Sectors:
Civil Society & NGOs, Health
Nr. of employees:
501-1000
About
Health Systems Trust (HST) is a leading public health organisation established in 1992 on the brink of democracy in South Africa. Over the past 25 years, HST has played an instrumental role in the evolution of South Africa's new national health system. HST has a rich history of working in all provinces in South Africa. We have experience at regional and national levels, and at provincial, district, facilities and community levels. Today, HST's strength lies in the knowledge, insight and experience we harness through synergising our research and implementation outputs towards our vision of health for all through strengthened health systems.

HST's areas of expertise include information for decision-making, leadership, community engagement, human resources, and quality improvement for service delivery. HST's intricate understanding of the challenges faced at primary health care level has led us to develop inventive, locally responsive solutions in support of the Department of Health (DOH) national health agenda. HST also supports the principle of universal health coverage through South Africa's evolving National Health Insurance. The wide variety of projects managed by HST is arranged according to our five core business areas: 1) Providing management and implementation support in health districts; 2) Supporting implementation of priority health programmes; 3) Conducting essential national health research; 4) Generating information for planning, monitoring, evaluation and decision-making; 5) Offering guidance, mentoring and training on good practice development.