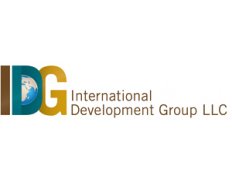 Member
IDG - International Development Group LLC
Member
Details
Types:
Consulting Organization
Funding agencies:
ADB, MCC, USAID, WB, Other
Sectors:
Energy, Environment & NRM, Finance & Accounting, Food Security, Gender, Inst. Devt. & Cap. building, Labour Market & Employment, Macro-Econ. & Public Finance, Monitoring & Evaluation, Poverty Reduction, Regional Integration, SME & Private Sector, Trade
About
International Development Group LLC (IDG) assists donors, governments, and the private sector to achieve sustainable, broad-based economic development and poverty reduction. IDG provides entrepreneurs and policymakers with the practical tools needed to make a real and measurable impact for their communities and their countries.
IDG builds the capacity of individuals and institutions in the public, private, and not-for-profit sectors, fostering synergies between local knowledge and international experience.