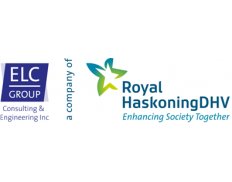 ELC Group Consulting & Engineering Inc. ( Royal HaskoningDHV Turkey)
Details
Types:
Consulting Organization
Funding agencies:
EBRD, EC, WB
Sectors:
Air & Aviation, Energy, Environment & NRM, Land & Erosion & Soil, Mining, Rural Development, Urban Development, Water & Sanitation
About
Royal HaskoningDHV Turkey was founded in 1992 and has operated locally as HaskoningDHV TR Engineering and Consultancy Inc since 2018. Formerly known as ELC Group Inc, with headquarters in Istanbul, we are renowned for our geotechnical and environmental expertise. Over the years, our company grew into a leading specialized environmental and geotechnical consulting company with clientele that includes oil and gas, construction, real estate development, energy, and finance companies both in Turkey as well as in the wider region.
ELC Group is a leading global services organization that helps clients expedite time-to-market through our services. These include a broad range of development capabilities, integrated advanced technologies, regulatory affairs consulting, and commercialization services.
elc group delivers its customized solutions through its four core business segments:
Regulatory Affairs Services
Medical Devices
EU REACH (Registration, Evaluation and Authorization of Chemicals) Regulation Services
Corporate Languages Solutions (Translations, Design, DTP, Localization)