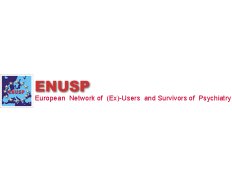 European Network of (Ex-)Users and Survivors of Psychiatry (ENUSP) (Germany)
Details
Types:
Consulting Organization
Sectors:
Health, Human Rights
About
ENUSP gives (ex-)users and survivors of psychiatric services across Europe a way to communicate so that we can support one other in the personal, political and social struggle against injustice and discrimination.
We are the only grassroots umbrella organisation working across Europe to unite local and national organisations of (ex-)users and survivors of psychiatry. We directly represent the views of people who are or have been on the receiving end of psychiatric services.
ENUSP aims to promote the human rights of (ex-)users and survivors of psychiatry and to influence European policy. We fight for (ex-)user/survivor controlled alternatives to psychiatry and against abuse and coercion. The following guiding principle was adopted at our first European conference:

The European Network is against any unilateral approach to and stigmatisation of mental and emotional distress, madness, human suffering and unconventional behaviour.

The European Network should support (ex-)users\'/survivors\' autonomy and responsibility in making their own decisions (self-determination).

In order to implement this principle we have prioritised the following areas:


Act against all discrimination (both inside and outside the mental health system) of people who have been subject to the psychiatric system;
Support the development of (ex-)user/survivor groups throughout Europe (with a particular emphasis on countries where there are no existing organisations);
Create and support alternatives to the psychiatric system and collect and share information on existing alternatives;
Influence and try to change current treatments in psychiatry.