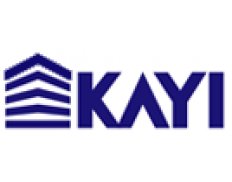 Details
Sectors:
Civil Engineering, Energy, Health
Nr. of employees:
5001-10000
About
In 1991, KAYI began operating with constructing industrial buildings. As a result of hard work, mutual respect and commitment, KAYI today operates with 6000 employees from different nationalities in 30 regions on 3 continents. KAYI always increases its operational performance and strives hard to deliver projects in the field of:
Industrial Constructions
Official Administrative Buildings
Hotels & Offices
Residences & Housing Complexes
Shopping & Entertainment Centers
Educational Institutions
Hydroelectric Powerplants
Biomass Power Plants
Natural Gas Distribution Lines
Oil & Gas
Health Campuses
Social Institutions
In 1994, KAYI's international activities started in Turkmenistan and extended to Azerbaijan, Russia, Kazakhstan, Algeria, Ukraine, Lithuania, UAE, Bulgaria, Iraq and Libya. KAYI secured a place in the international arena thanks to its operations in four different but related sectors, namely:
Contracting
Energy
Development & Investment
Healthcare & PPP
As KAYI ranks constantly among one of the Top 250 International Contractors list from 2007 onwards, KAYI is one of the leading company in the world with an experienced and talented management team, extensive know-how, timely deliveries without sacrificing high quality, and sustainable long-term relationships with top-notch international clients. Having left behind 25 professional, dedicated and innovative years in a range of sectors, KAYI is ready for the challenges of the next century.