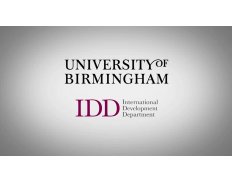 IDD - International Development Department
Details
Types:
Academic Institution
Funding agencies:
FCDO, EC, SIDA
Sectors:
Education, Environment & NRM, Poverty Reduction, Research
About
The International Development Department (IDD) is a multi-disciplinary academic department at the University of Birmingham in the United Kingdom focused on poverty reduction through developing effective governance systems.
Poverty reduction, security, climate change and governance are critical issues for the 21st Century. Study with us to gain the skills and knowledge essential for working in international development.
Flexible programme design and individual fieldwork for the Masters dissertation (on-campus degrees) ensure that International Development Department (IDD) meets a wide range of students' interests.