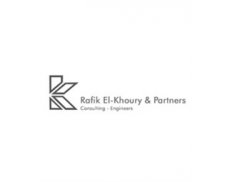 Member
Rafik El Khoury & Partners
Member
Details
Types:
Consulting Organization
Funding agencies:
EC, KFW, UNDP, WB, UNOPS, JICS
Sectors:
Architecture, Civil Engineering, Design, Industry, Commerce & Services, Mechanical Engineering, Roads & Bridges, Transport, Urban Development, Water & Sanitation
Nr. of employees:
201-500
About
The office of Rafik El-Khoury & Partners was established in 1967. From the outset, the firm has, on the one hand been involved in the structural designs of delicate architectural projects where only the full interchange of ideas between architect and engineer could lead to the success of the venture and, on the other, its involvement in important engineering and structural designs per se has been considerable.
Structural design, road and bridge design, infrastructure design, the design of industrial installations and maritime works, preparation of tender documents, project control and supervision including cost control and project/construction management are some of the Firm\'s major fields of activity, enhanced by the extensive international experience of the founder and engineering staff. The Firm has also been extensively involved in structural steel and prefabricated concrete design and the preparation of fabrication and shop drawings for these industries.