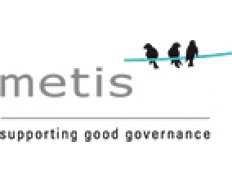 METIS GmbH (AT)
General
Partners/Competitors
•

143
General
Partners/Competitors
•
143
Details
Types:
Consulting Organization
Sectors:
Administration, Agriculture, Macro-Econ. & Public Finance, Monitoring & Evaluation, Rural Development
About
Metis is a European consulting company seated in Vienna. Since 1999, metis has been supporting public bodies and enterprises in Austria and in Europe in the fulfilment of their public policy remit. Metis offers high value-added, knowledge-based services covering the full policy cycle: Policy design, Policy and programme implementation, Monitoring and analysis of policies, Policy, programme and project evaluation.The technical expertise of metis encompasses primarily the following policy fields: Cohesion Policy, Agricultural Policy and Rural Development, Territorial Co-operation, Employment Policy and Qualification, Public Finance.