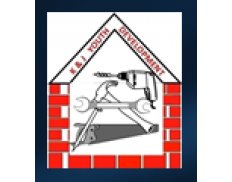 Details
Types:
Consulting Organization
Funding agencies:
ADB, AfDB, DFAT Australia, GA Canada, DANIDA, FCDO, EBRD, EC, EIB, IFC, IADB, KFW, MCC, NDF, NZAID, SIDA, UNDP, USAID, WB, Other, ARDS, AFD, BADEA, Enabel, CDB, GIZ, Government, ISDB, LuxDev, MFA Finland, NADB, NORAD, OSCE, OAS, UNOPS, USTDA, US DoS, UN, OSI, CoE, SDC, IFAD, UNICEF, WHO, UNIDO, UNEP, FAO, IBRD, ILO, ETF, UNHCR, UNESCO, CIP, FP7, ACTED, EBA, EIOPA, ESMA, Horizon 2020, NHA
Sectors:
Administration, Culture, Design, Education, Electrical Engineering, Fundraising, Furniture & Office Supplies, Information & Communication Technology, Labour Market & Employment, Livestock (incl. animal/bird production & health), Marketing, Mechanical Engineering, Media and Communications, Migration, Other, Poverty Reduction, Research, Rural Development, Social Development, Tourism, Trade, Training, Transport, Water & Sanitation, Youth
About
K&J Youth development centre started as a community based training centre but because are number of students needed training courses then it was transformed into a vocational training centre in 2013 It is located off Masaka highway along Nanziga road in Maya trading centre. Students come from the surrounding communities, and elsewhere in Uganda most students are unprivileged.
We come up with the idea of K&J Youth Development Centre because The Ugandan economy needs trained workers to sustain and expand its industries and contribute to economic growth as a whole. This is a prime requirement for the reduction of poverty, and the hope of a better future.