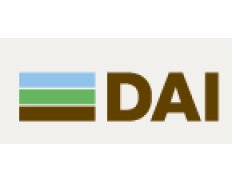 Details
Legal residence:
South Africa
Types:
Consulting Organization
Sectors:
Inst. Devt. & Cap. building, Programme & Resource Management
Other offices:
Ethiopia, Bangladesh, Nepal, Morocco, Malawi, Egypt, Georgia, Thailand, Palestine / West Bank & Gaza, Iraq, Afghanistan, Kenya, Nigeria, Tajikistan, Indonesia, Liberia, Pakistan, Serbia, Belgium, Turkey, Germany, Jordan, Bulgaria, USA, UK, Austria
About
DAI works at the cutting edge of international development, combining technical excellence, professional project management, and exceptional customer service to solve our clients' most complex problems.

Since 1970, DAI has worked in 150 developing and transition countries, providing comprehensive development solutions in areas including crisis mitigation and stability operations, democratic governance and public sector management, agriculture and agribusiness, private sector development and financial services, economics and trade, HIV/AIDS, avian influenza control, water and natural resources management, and energy and climate change.

Clients include international development agencies, international lending institutions, private corporations and philanthropies, and host-country governments.